Matthew Algeo is a longtime Chicago Review Press author, having published six titles with us. He is an award-winning journalist who has reported from four continents, and his stories have appeared on public radio's All Things Considered, Marketplace, and Morning Edition.
With the release of his newest book, All This Marvelous Potential, this month, we asked Matthew to reflect on his four politically oriented books—telling us why they resonate today and what he liked most about the writing processes.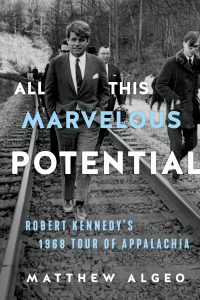 What was your favorite part of writing this book? 
Meeting amazing people! In my research I was lucky to interview people like Bonnie Carroll, the teacher in the one-room schoolhouse that RFK visited; Lawrence Baldridge, a Baptist minister who invited RFK to speak at a local college (and had the courage to perform one of the first interracial marriage ceremonies in Kentucky); Peter Edelman, the RFK aide and advance man who had a front-row seat to history; and Steve Cawood, a law-school student who managed to finagle a ride in RFK's car, almost Zelig-like. All of them dedicated their lives in one way or another to helping others, and all were so warm and helpful and kind to me—it reassured my faith in humanity.
What do you think makes the title resonate with readers today?
As I say in the book, the similarities between then and now are startling: divisive politics, racial strife, economic uncertainty, environment concerns. I really think the book offers a glimpse at a world that seems both far away and very close; it shows how far we've come and how far we still have to go.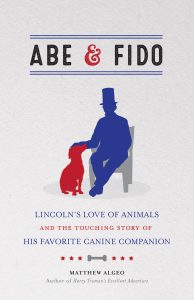 What was your favorite part of writing this book? 
Learning about Lincoln's early life. My knowledge of Lincoln was pretty much limited to his presidency. Learning about his life before the White House was illuminating. Lincoln's singular character developed early. As a child he wrote an essay opposing animal cruelty. (Runner-up: Spending time at the Abraham Lincoln Museum in Springfield, Illinois, where the staff was exceptionally friendly and helpful.)
What do you think makes the title resonate with readers today? 
You can tell a lot about a society by the way it treats its animals. The casual cruelty inflicted on animals in the name of labor and entertainment in earlier times was unspeakable. While we still have a long way to go, I think readers will be reassured by the progress we've made in making the lives of our nonhuman cohabitants of this planet more humane.
Harry Truman's Excellent Adventure
What was your favorite part of writing this book? 
Retracing the road trip! I drove from Independence, Missouri, to Washington, DC, following Harry and Bess's route as closely as I could (there weren't any interstates back in '53, of course). What a thrill it was to pull into a town and comb through the local newspaper's archives, looking for articles about the time the Trumans passed through. Often I'd come across the name of a waitress or gas station attendant who'd served them, look up that name in the phone book, and be at their house talking to them that same day. Plus I ate a ton of excellent diner food. (Highly recommended: The Princess Restaurant in Frostburg, Maryland, where the booth that Harry and Bess sat in is still known as the Truman Booth.)
What do you think makes the title resonate with readers today? 
They will be amazed at how different life was for ex-presidents in 1953: no pension, no Secret Service protection, no free office space or paid staff. Harry Truman was the last president to return to something resembling a normal life after leaving the White House, a little like his hero Cincinnatus. Today, ex-presidents are midsized corporations. But Harry just went back to Independence and splurged on a new Chrysler. (Well, he probably only paid a dollar for it—details in the book!)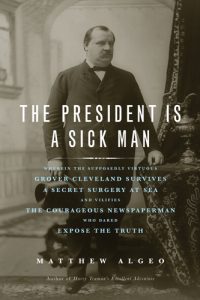 What was your favorite part of writing this book? 
Communing with Grover Cleveland's tumor. Seriously, the doctor who secretly removed the tumor from Grover's mouth saved it in a small glass jar, and it is now on display at the wonderfully macabre Mutter Museum in Philadelphia, along with some of the surgical instruments used in the operation. The museum director let me see the tumor up close. (No, I didn't get to touch it.) It sort of looks like a piece of wet cauliflower but you can see bits of Grover's teeth in there! (At least I think they're bits of his teeth.)
What do you think makes the title resonate with readers today? 
Can you imagine President Trump simply vanishing for a month? Well, maybe it would be nice but it's definitely not happening. Nowadays, presidents are perpetual public figures, in the news 24/7. But a little more than a hundred years ago it was possible for presidents to "go fishing" for weeks at a time in the summer and nobody thought anything of it. That's how Grover was able to undergo the surreptitious surgery. My how the times have changed.