Using the latest principles of neuroscience and motor learning, Being a Singer: The Art, Craft, and Science pulls back the curtain on how singing works, from cognition to anatomy to the body's amazing hearing system and even your instincts and emotions.
Author Linda Balliro is a highly regarded voice teacher at the Berklee College of Music and has been nominated for a Grammy as Music Educator of the Year. We asked her to say a few words about what makes a great singer: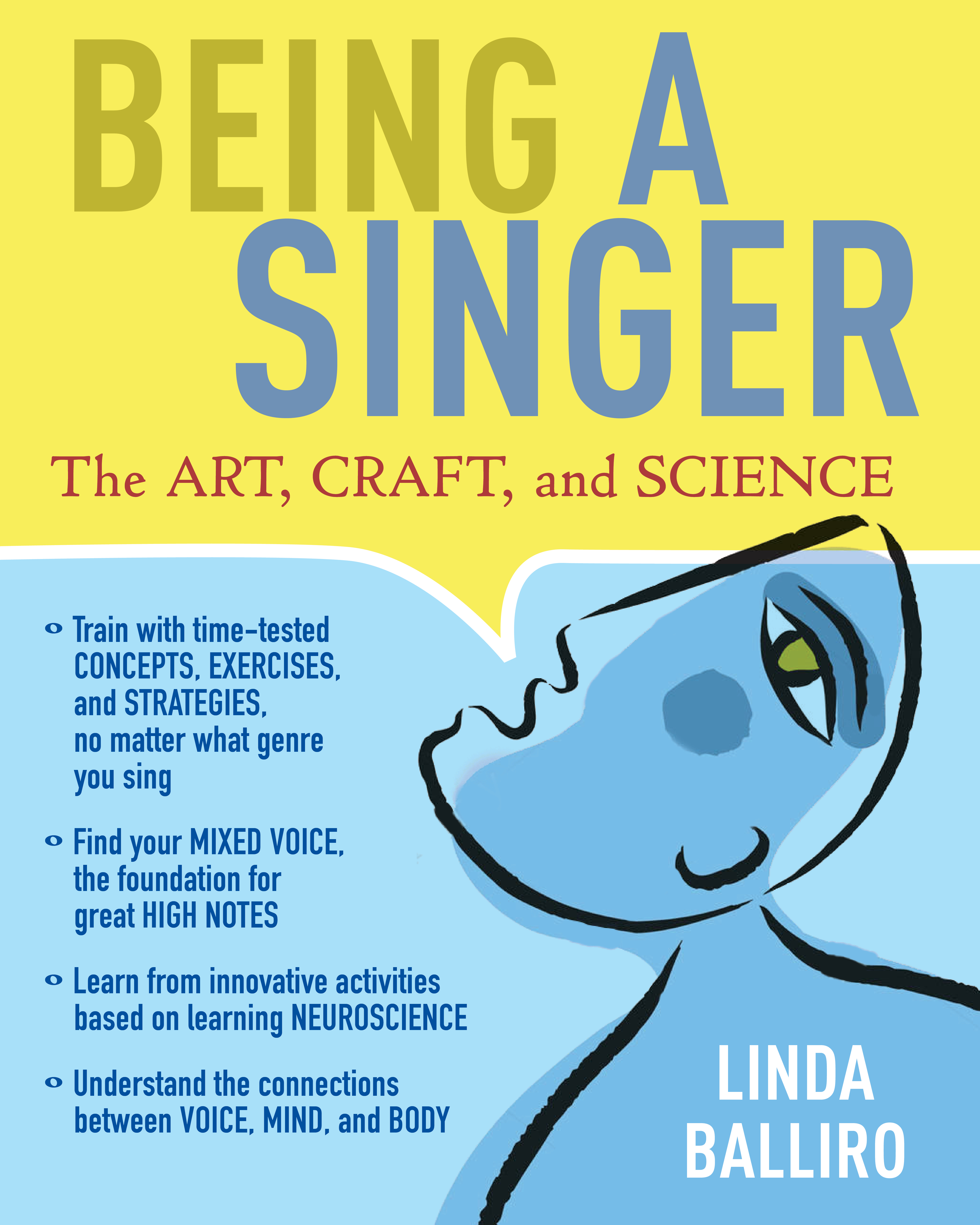 What makes a great singer?
By Linda Balliro
My life as a singer began shortly after birth—the nurses told my mother that I sang, unheard of in a newborn. My mother didn't believe them, she just proudly bundled up her fifth child, wondering if she had the stamina to wake up every day to a crying baby again. The first morning home from the hospital, she was woken up at dawn to a little, odd sound coming from my crib. She hastily jumped up to investigate and found me quite contentedly singing in my crib. I was four days old. My mother told me this story in my junior year of high school on a crisp fall morning when I was dashing about trying to be on time for school. I replied, "Why are you telling me this story now, I'm going to be late!" "Because every morning since then, the first thing you do when you wake up is sing."
Many singers can tell you similar stories, because those of us who sing for a career usually do so because we are driven. Some of the reasons behind this are discussed in depth in Being a Singer: The Art, Craft, and Science, but we can say here that singing is a need to communicate an idea or an emotional experience. When we hear professional singers, those with the most powerful impact on society are those who achieve this with energy and authenticity, while having the ability to move throughout their vocal range without straining or losing tone quality.
In classical music and opera, singers achieve this with many years of training in language, musicianship, acting, stage movement, and vocal technique. But that isn't why audiences buy tickets to hear them. They buy tickets to be transformed and transported to the emotional landscape that each singer can create. Some of the classical singers most notable for this authenticity today are Renee Fleming, Anna Netrebko, and Jonas Kauffman.
Fleming, known for her lush, lyric soprano tone, developed from years of training and experience, has actually built her career on her ability to move people with her authenticity. Listen to her Superbowl performance, around one minute in: "what so proudly we hailed, at the twilight's last gleaming." Her vocal craft allowed her to make very expressive choices on the words she felt were most important to the message.
In contemporary music, the singers who dominate the airwaves are descendants of the tremendous African American traditions of singing. The most powerful impact of this singing appeared on the world stage in the era of Motown, when groups singing harmony with energy and authenticity demonstrated how vocal sound can communicate a wide range of emotional experiences, from young love in "Heatwave" by Martha and the Vandellas  to the social milieu of the time with Stevie Wonder's "Superstition." Stevie Wonder went on to develop his vocal technique so that he could maintain tone throughout his range, allowing him to be even more expressive.
Today's contemporary singers, who face unprecedented demands from touring schedules, technology and modern cultural expectations, have built on the singers of the past. Some of them struggle with vocal problems because of these demands—and the loss of emphasis on the craft of voice—but we can still hear the great vocalists who can sing throughout their range without losing tone quality or straining, allowing them to be authentic in their expression.
Kelly Clarkson, a winner in the early days of the TV show American Idol, built her career on pop music but recognizes the musicianship and vocal craft of the singers who came before her. On her latest album, she takes the craft to another level—with echoes of James Brown and an ability to soar throughout her range for a powerful emotional expression in "Whole Lotta Woman."
Ed Sheeran is another contemporary artist who is using his vocal craft to broaden his ability to communicate emotional experience, and it's paying off for him with the largest tour audiences in history and a spot as the #1 played artist on Spotify. In this song with another great vocalist of our time, Beyoncé, they use vocal craft to sing with consistent tone quality throughout the range and unique harmonies to create emotional tension. These are the moments where singing allows us to "play out" the emotional experiences of our lives.
The list of great singers from all genres who combine vocal craft with musicianship and authenticity is much longer than this, but you will know it when you hear it.