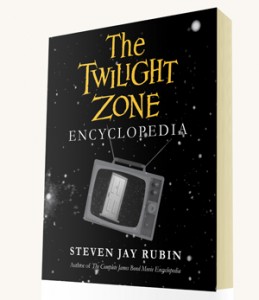 Just in time for Halloween, Chicago Review Press submits for your approval The Twilight Zone Encyclopedia—a one-of-a-kind completist's tribute to the genre-bending show that changed the landscape of network television. Below, author Steven Jay Rubin reveals the top ten spookiest Twilight Zone locations you wouldn't want to visit on Halloween—though you may want to check out the episodes post trick-or-treating.
---
 Ten Twilight Zone Locations You Wouldn't Want to Visit on Halloween Night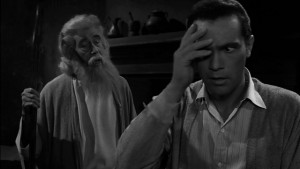 THE MONASTERY IN "THE HOWLING MAN"
Forget the fact that it's a creepy old building with humorless monks milling about and no Wifi. There's this guy in the basement who howls constantly, and he doesn't shut up.
CHRISTIE STREATOR'S HOUSE IN "LIVING DOLL"
First you have to deal with the loathsome Erich Streator (Telly Savalas) who runs his home like it's interrogation night at Gestapo HQ. Then there's this Talky Tina doll who has a habit of improvising dialogue that can't be found in her instruction manual.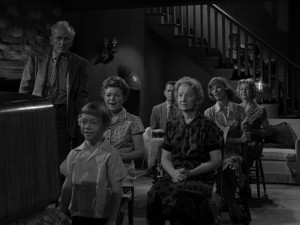 THE FREMONT FARM IN "IT'S A GOOD LIFE"
This is walking on eggshells central. Just try to upset little Anthony Fremont (Billy Mumy) and he'll wish you right into the cornfield.  That's a euphemism for losing your very existence on planet Earth. Plus there's the fact that you have to watch the same dumb TV programs every day.  It's enough to drive you mad.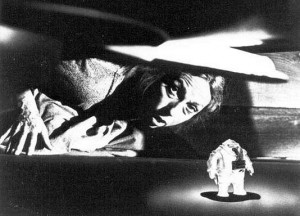 THE GIANT OLD WOMAN'S HOMESTEAD IN "THE INVADERS"
This is a doozy.  First, you have to contend with an alien giant (Agnes Moorehead) who makes you look like a reject from Toy Story. She doesn't speak, she just grunts a lot, and tries to mash you with any farm implement she can find.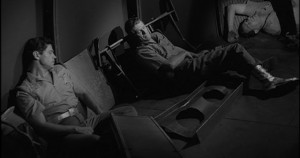 THE SPACESHIP IN "DEATH SHIP"
Remember Bill Murray in Groundhog Day? Well, this is the nightmare version.  You find yourself in the company of three space travelers who land on an alien planet and find an exact duplicate of their ship—however, this one has crashed, and there are three dead bodies in the ship—their dead bodies. Not a lot of jokes cracked in this one.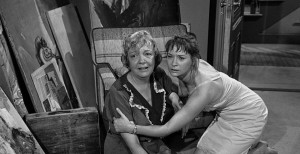 THE NEW YORK CITY APARTMENT IN "THE MIDNIGHT SUN"
The plus side is you get a chance to spend some time with a sweet artist (Lois Nettleton). The down side is it's (*&*(%$# hot everywhere because Earth has shifted out of its orbit and is approaching the sun. And forget about Halloween night—there isn't any night anymore.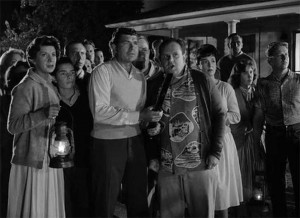 THE SUBURBAN NEIGHBORHOOD IN "THE MONSTERS ARE DUE ON MAPLE STREET"
Try walking around here after dark, when everyone else suspects everyone of being an alien invader. You can get shot borrowing a cup of sugar.  By the way, does anybody ever borrow a cup of sugar anymore?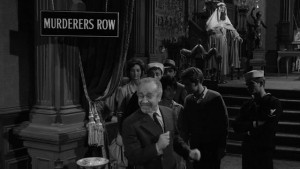 THE BASEMENT MUSEUM IN "THE NEW EXHIBIT"
I don't know about you, but I wouldn't want to walk into this murderer's gallery for all the gold in Fort Knox. They're supposed to be harmless wax replicas of famous killers, but these guys look a little too lifelike.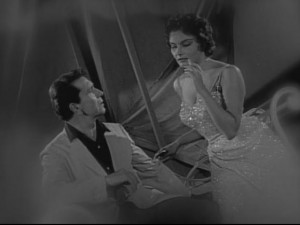 THE AMUSEMENT PARK IN "PERCHANCE TO DREAM"
You can really have a blast at an amusement park on Halloween night, but stay far away from this one. There's a sexy succubus (Suzanne Lloyd) lurking in the shadows—that's a female demon. And she preys on your weaknesses.  Stay far far away.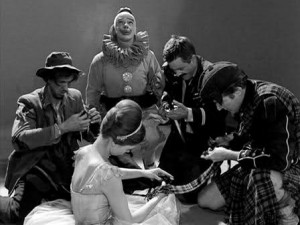 THE CYLINDER IN "FIVE CHARACTERS IN SEARCH OF AN EXIT"
Remember the "No Win" scenario in Star Trek II: The Wrath of Khan? This is much worse. First, you're stuck in a cylinder with no visible exit or escape route. Secondly, you have to spend serious time with a band of misfits: a restless army major, a sarcastic clown, a snobbish ballerina, a mute bagpipe player and a dour hobo. And not one board game
---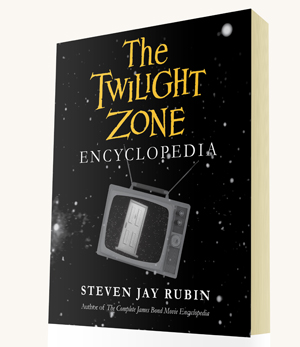 "Absolutely impossible to put down. With his well-earned reputation for thorough research, Steve Rubin has crafted a compendium that will be both useful and enjoyable for fans of The Twilight Zone and anyone who loves vintage television." —Leonard Maltin
"Steven Rubin has managed to write a book that will enthrall a Twilight Zone newbie as well as the hardcore fan. Meticulously researched and endlessly entertaining, it's a veritable Everything You Wanted to Know About The Twilight Zone but Were Afraid to Ask. You'll want to have the book close by next time you watch an episode of the Rod Serling classic on television." —Susan King
"This monumental book is required reading for all devotees of The Twilight Zone. It's a combination bible, guidebook, dictionary, and encyclopedia and should be on the library shelf of all fans and scholars." —Carol Serling
"An incredible treasure trove of details and crucial information you never knew you needed, The Twilight Zone Encyclopedia is lovingly researched, written, and presented. This book is a true gift to all fans of what is, arguably, the greatest series to ever grace the airwaves." —J. J. Abrams 
The Twilight Zone Encyclopedia is available wherever books and e-books are sold.
[Order it now $30]  [Request a review copy]