Who doesn't love a great Broadway musical? That's the collective sentiment here at CRP, at least. In honor of our forthcoming book, Showstoppers! The Surprising Backstage Stories of Broadway's Most Remarkable Songs by Gerald Nachman (out in November), CRP staff share their favorite show tunes and musicals and the fond memories behind them.
My dad instilled in me a great love of theater, including musicals, from a young age, and so my favorite show tunes tend to be the ones I can remember him belting out to me as a kid (often in public, to my complete embarrassment). "
Tradition"
and "
Do You Love Me?
" from
Fiddler on the Roof
, "
Nothing
" from
A Chorus Line
, and "
Luck Be a Lady
" from
Guys and Dolls
are all regulars in his circuit to this day.
I also saw The King and I on Broadway during my very first visit to New York City, at age thirteen. It remains today one of my all-time favorites. The music is so enchanting and immediately brings you to another time and place. And that hoop dress of Anna's, flying—floating!—around the stage during "Shall We Dance?" has to be one of the most iconic images in American theater, musical or not. —Caitlin Eck, publicity manager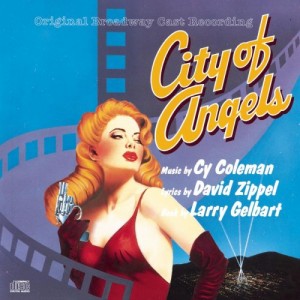 I have extreme fondness for the film noir musical City of Angels, which tells the twin stories of Stine, a writer who goes to Hollywood to write the script adaptation for one of his bestselling detective novels, and Stone, his fictitious hero. My introduction to it was a fantastic community theater production that I saw in the early '90s, and I'm always sad that the show doesn't seem to get revived that often. (The technical demands of the big-band score and the elaborate conceit of half the set and costumes being dressed to look like they're appearing in a black-and-white movie surely can't help matters.) David Zippel's devastatingly witty lyrics and Cy Coleman's romantic, evocative music more than hold their own against Larry Gelbart's cleverly plotted book. Not to mention, the surplus of satisfyingly belty songs—"What You Don't Know About Women," "With Every Breath I Take," and "You Can Always Count on Me" especially—has, over the years, afforded this alto hours of sing-along enjoyment. —Allison Felus, production manager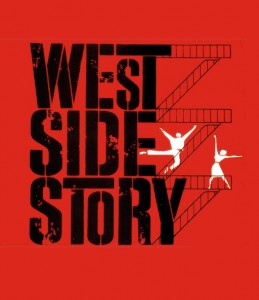 Good grief, how do I choose?! I could no more pick a favorite musical than I could a favorite book, but I do hold a special place in my heart for West Side Story. My local high school staged it when I was about twelve, and since my brother was in the pit orchestra I went to almost every performance. I was totally hooked the first time I saw the dance at the gym scene, which borrowed choreography from the movie version. When all the Sharks suddenly turn around during the mambo, looking fierce and amazing, I was a goner. Thus began a lifetime of musical theater geekery and dreams of one day singing on Broadway myself. Clearly those dreams haven't quite panned out . . . yet. But who knows? It's only just out of reach, down the block, on a beach, maybe tonight . . .—Ellen Horner, project editor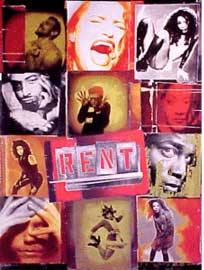 First things first, I should state that for a good portion of my childhood, I grew up in a musical. I don't mean that I was a soot-covered waif begging for alms or had to overcome great obstacles with just my pluck and remarkable vocal range, no, I mean that my family really would just randomly break out into song. It was mostly when extended family got together or I was visiting my cousins, but it was not a rare thing to be talking one minute and then singing in the next breath. Was it a Saturday morning and time to do weekend chores? Cue up "It's the Hard-Knock Life" as my cousins and I would be dusting and vacuuming. Was it mealtime? If it wasn't "Food, Glorious Food!" then it was "Oliver" because someone asked for another helping. Les Mis, Phantom, Sound of Music, Fiddler, Little Shop of Horrors—we listened to and sang them all. So it's difficult for me to choose just one musical or show tune that I love.
I do have a special place in my heart for Rent. When it debuted on Broadway I was in high school and it was The. Show. (the Hamilton of its time, even) and I read everything I could about it and listened to the soundtrack on repeat until I had it memorized. My senior year the school's drama teacher organized a small trip to New York to see the city and, yes, go see Rent. It was amazing enough that I was able to see the original Broadway cast (except for Jesse L. Martin, whose understudy was on that day), but we also had the opportunity to meet with the cast after the performance for a Q&A and to get their autographs. —Mary Kravenas, marketing manager
When I was five, my family lived in Reno, Nevada, and we would go hiking all the time. On the drive to the hiking spots, we would listen to
Les Misérables
the whole way and, inevitably, the songs would get stuck in my head for the entire day. My family and I soon discovered that "
Do You Hear the People Sing
" was the perfect song to march along to while trekking through the mountains. It's the first song I ever remember hearing. On a side note,
HAMILTON
RULES. —
Emily Lewis, editorial & marketing assistant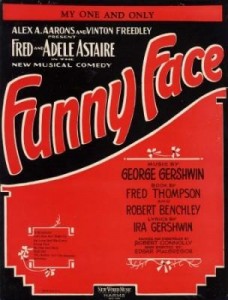 Many of my favorite song lyrics are about self-deception, so I'm very fond of the following two ballads. "How Long Has This Been Going On" by George and Ira Gershwin was written for Funny Face in 1928, and the "This" in the title is, of course, love. It was sung by Frankie (Adele Astaire) in the original show and by Jo (Audrey Hepburn) in the 1957 movie (which has a different plot). "It Never Entered My Mind" by Rodgers and Hart is from Higher and Higher (1940), where it was introduced by Shirley Ross; the "It" in the title is abandonment. In "How Long," the singer is taken aback by the existence of a feeling she's never experienced before, a feeling of pure joy; Hepburn's version in the film, sung while balancing on a bookshop ladder, is unforgettable. "It Never Entered My Mind" is a song of pure heartbreak; in it, the singer realizes that what her lover had warned her about—his leaving her—has come to pass, despite it never entering her mind. My favorite version is, of course, Sinatra's, which he recorded three times—in 1947, 1955, and 1981 (I like the first version the best). In neither song does the singer admit that, yes, she's actually heard of love, and has no reason to wonder how long it's been going on; or yes, she had an inkling that he might leave her some day. The song's refrains are lies. But they're necessary lies, the lies we tell ourselves when we're in love, the lies that keep us from going out of our minds . . . —Yuval Taylor, senior editor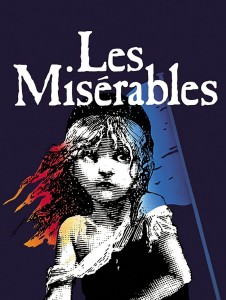 I grew up in the greater Chicagoland area, and my parents took advantage of our ability to go see some great musicals downtown when I was a kid. I remember seeing, and enjoying, both Show Boat and Cats. But the one that really struck a chord (pun intended) was Les Mis. I was absolutely enthralled by the music, the staging, the characters—just everything about the entire show. I got the double disc soundtrack soon after and practically wore it out. I listened to it daily, often hitting repeat over and over and over on certain songs. If pressed, I could probably sing through most of the musical today.—Michelle Williams, managing editor
---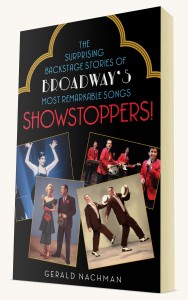 Gerald Nachman's  Showstoppers! The Surprising Backstage Stories of Broadway's Most Remarkable Songs officially pubs November 1. It's available wherever books and e-books are sold.
"The narrative is in-depth yet extremely informal . . .  Fans of show tunes will enjoy dipping in and out of these short, easy-to-read snapshots." —Booklist
"Veteran theater critic Nachman pens a valentine to the quintessential American musical set piece, the showstopper." —Library Journal
---
—This post was formatted and posted while listening to The Book of Mormon soundtrack.