Read below to find out what books we've read over the holidays and what books we received as gifts that we're most excited to start reading.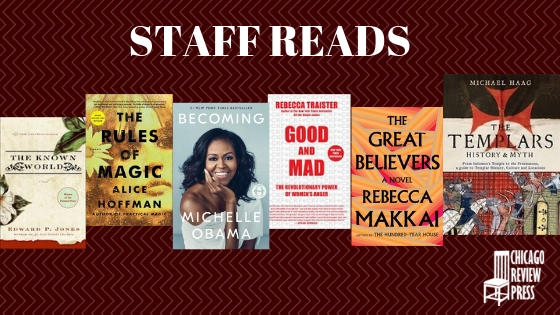 The Rules of Magic by Alice Hoffman is a perfect fall read, especially if you're a fan of Practical Magic. It's an enchanting look at a family's dark history, filled with retro flair. Some books I got for Christmas are ALL the Harry Potter Books, The Love Song of Jonny Valentine by Teddy Wayne, The Night Circus by Erin Morgenstern, and Get in Trouble by Kelly Link.    —Andrea Baird, marketing director
I read The Templars: The History and the Myth: From Solomon's Temple to the Freemasons by Michael Haag, and some books I received over the holidays are The Other Woman and The Guest Room.    —Tom Galvin, sales manager
I'm currently reading Michelle Obama's autobiography Becoming, which was a Christmas present. My parents also gave me a copy of In God We Trust, All Others Pay Cash (the book that inspired the movie A Christmas Story).    —Alex Granato, editorial assistant
Over the break I finished Rebecca Traister's Good and Mad: The Revolutionary Power of Women's Anger. The book is an exploration of the explosive power of female anger and how it's often perceived (read: belittled) throughout history. It's a fascinating and maddening read, and I highly recommend for all genders. I also devoured Michelle Obama's memoir Becoming. It's perfection.    —Jen DePoorter, marketing coordinator
Over the holidays I enjoyed reading The Great Believers, Uprooted, and Becoming. All of them I highly recommend. I also received Dark Matter and Educated, which I'm super pumped to start reading.    —Emily Lewis, marketing associate
I read and greatly enjoyed Edward P. Jones's The Known World. As a gift I received Robert Alter's three-volume translation of The Hebrew Bible, and when I was in Spain I bought volume 1 of Julio Cortázar's Cuentos completos.    —Yuval Taylor, senior editor
Let us know what you've been reading in the comments below!