New year, new books! As you continue adding to your 2021 "to be read" list, here are some of our top titles you won't want to miss coming out later this spring and summer.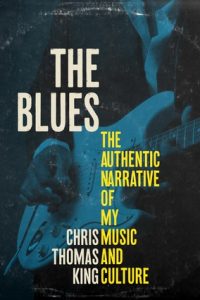 Forget what you think you know about the blues. 
All prior histories on the blues have alleged it originated on plantations in the Mississippi Delta. Not true, says author Chris Thomas King. In The Blues, King presents facts to disprove such myths. Expecting these findings to be controversial in some circles, King has buttressed his conclusions with primary sources and years of extensive research, including a sojourn to West Africa and careful examination of the work of folklorists and blues researchers from the 1960s folk-rediscovery epoch.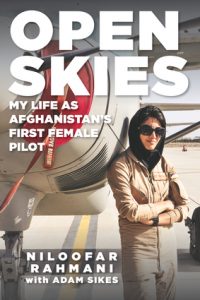 A high-flying autobiography that should be at the top of your nonfiction list. 
In 2010, for the first time since the Soviet takeover, Afghanistan allowed women to join the armed forces, and Niloofar Rahmani entered Afghanistan's military academy. However, the professed openness of the new Afghan military could not surmount centuries of chauvinism. Niloofar had to break through social barriers to demonstrate confidence, leadership, and decisiveness—essential qualities for an armed forces pilot. Against the odds, Niloofar performed the first solo flight of her class—ahead of all her male classmates—and in 2013 became Afghanistan's first female fixed-wing air force pilot.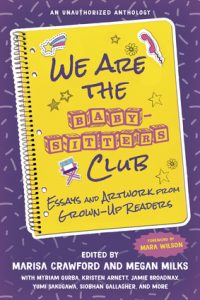 A throwback for those missing the days of BSC. 
The Baby-Sitters Club series featured a diverse, complex cast of characters and touched on an impressive range of issues that were underrepresented at the time: divorce, adoption, childhood illness, class division, and racism, to name a few. In We Are the Baby-Sitters Club, writers and a few visual artists from Generation BSC will reflect on the enduring legacy of Ann M. Martin's beloved series, thirty-five years later, celebrating the BSC's profound cultural influence. Contributors include author Gabrielle Moss, illustrator Siobhán Gallagher, and filmmaker Sue Ding, as well as New York Times bestselling author Kristen Arnett, Lambda Award–finalist Myriam Gurba, Black Girl Nerds founder Jamie Broadnax, and Paris Review contributor Frankie Thomas.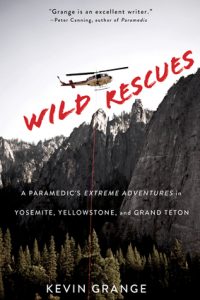 A paramedic story for those hoping they get to spend some time exploring the national parks this summer.  
Wild Rescues is a fast-paced, firsthand glimpse into the exciting lives of paramedics who work with the National Park Service: a unique brand of park rangers who respond to medical and traumatic emergencies in some of the most isolated and rugged parts of America. Between calls, Grange reflects upon the democratic ideal of the National Park mission, the beauty of the land, and the many threats facing it. With visitation rising, budgets shrinking, and people loving our parks to death, he realized that—along with the health of his patients—he was also fighting for the life of "America's Best Idea."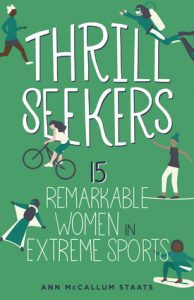 Bold Books to Inspire Bold Moves. The first book in CRP's new Women of Power series.  
What is the allure of the extreme? Who are the women who seek out and excel at sports outside the conventional, such as cave diving, wingsuit flying, or Formula 1 racing? This collection of adventure dynamos is as fascinating as it is empowering. Thrill Seekers introduces readers to a diverse and fascinating selection of women whose determination, grit, and courage have propelled each of them into a life far from the sidelines. Each chapter introduces readers to modern role models and leaders, change-makers who opt into a life of risk—but one of astonishing rewards.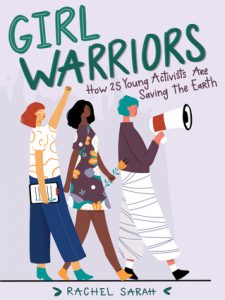 An inspiring book for young activists looking to take on the world.  
Girl Warriors: How 25 Young Activists Are Saving the Earth tells the stories of 25 climate leaders under age 25. They've led thousands of people in climate strikes, founded nonprofits, given TED talks, and sued their governments. These fearless girls and young women from all over the world are standing up to demand change when no one else is.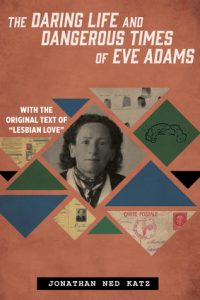 A thrilling biography of activist Eve Adams.  
Eve Adams was a rebel. Born Chawa Zloczewer into a Jewish family in Poland, Adams emigrated to the United States in 1912. The young woman took a new name, befriended anarchists, sold radical publications, and ran lesbian-and-gay-friendly speakeasies in Chicago and New York. In The Daring Life and Dangerous Times of Eve Adams, acclaimed historian Jonathan Ned Katz has recovered the extraordinary story of an early, daring activist. Drawing on startling evidence, carefully distinguishing fact from fiction, Katz presents the first biography of Adams, and the publisher reprints the long-lost text of Adams's rare, unique book Lesbian Love. 
A little George Harrison. A little Eric Clapton. One great music read. 
George Harrison and Eric Clapton embarked upon a singular personal and creative friendship that impacted rock's unfolding future in resounding and far-reaching ways. All Things Must Pass Away: Harrison, Clapton, and Other Assorted Love Songs will trace the emergence of their relationship from 1968 though the early 1970s. In particular, authors Womack and Kruppa devote close attention to the climax of Harrison and Clapton's shared musicianship—the November 1970 releases of All Things Must Pass, Harrison's powerful emancipatory statement in the wake of the Beatles, and Layla and Other Assorted Love Songs, Clapton's impassioned reimagining of his art via Derek and the Dominos, the band that he created from the wreckage of Cream and Blind Faith.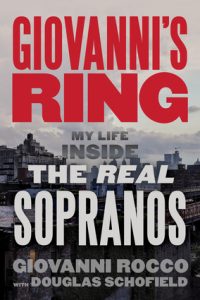 A must-read for any true crime junkie. 
Giovanni's Ring is the story of "Giovanni Rocco," a New Jersey police officer known undercover as "Giovanni Gatto," who was the mysterious agent at the epicenter of Operation Charlie Horse, a federal undercover operation that ultimately brought down ten members and associates of New Jersey's DeCavalcante Mafia family, the criminal organization known as "the real Sopranos." Giovanni's Ring is not simply a chronicle of Giovanni Rocco's adventures in the murky and dangerous Mafia world he inhabited, but also a fascinating window into the psychological struggles that such a life inevitably entails