Authors spend years, even decades, researching, writing, and editing their books. And then once the book is published, they make the rounds talking about their writing process and habits. What else makes authors tick? In Authors Off–Book we'll introduce you to CRP's authors and ask what else makes their literary world go round.
First up we've got Tom Acitelli, whose American Wine pubs September 1. Tom's previously written about the history of craft beer in The Audacity of Hops, and he's working on a book about American craft spirits. Let's raise a glass to Tom and our initial blog post!
Authors Off–Book — A recurring series where we ask CRP authors about their literary leanings.
Tom Acitelli is the author of American Wine: A Coming-of-Age Story, the first-of-its-kind history of American fine wine. The Wall Street Journal said his previous book, The Audacity of Hops, was an "exhaustive chronicle of the American beer revolution . . . lovingly told."
He has written for the New York Times, the Wall Street Journal, Bloomberg View, Eater.com, and Town & Country. He lives and reads in Cambridge, MA. You can find him on Twitter at @tomacitelli.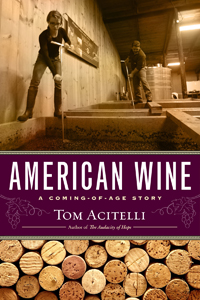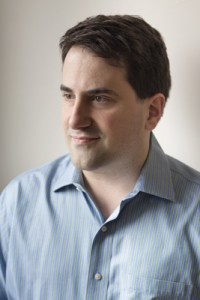 The last book you've canceled plans for so you could keep reading?
I'm a Civil War geek, so this is invariably going to be a Civil War–related book. And that book was Confederate Reckoning: Power and Politics in the Civil War South by Stephanie McCurry (Harvard University Press, 2012). It was basically new research and fresh revelations regarding how slaves who seized their freedom, and poorer women fed up with the often forced enlistment of husbands, sons, etc., undermined the Confederacy and turned out to be among the best allies the Union could have. I loved the originality—not an easy feat in the Civil War canon—and the writing was brisk.
Your favorite album to listen to while reading?
Anything from the Rolling Stones from 1968 through 1972 or 1978 through 1982, including live albums. Mozart's later symphonies will do in a pinch.
You've written about beer, wine, and spirits. What's your preferred beverage to accompany a good book?
D. L. Geary's Hampshire Special Ale—really any milder American-made ale. They are so much better than the English originals they were based on. As for wine, a Pinot Noir from Oregon or a Chardonnay from Sonoma.
Literary confessions: what is a book you've faked reading?
Oh, the list goes on and on. Most of my book-reading is for work at this point, so I don't really have a ton of time to freely graze for long periods. I can remember bluffing my way through an oral report on Joyce's Portrait of an Artist as a Young Man in high school. Or is it Picture of an Artist?
Your guilty pleasure/can't-believe-I-read-that book?
Someone once got me The Da Vinci Code for Christmas. I thought, 'What the hell, I'm traveling. . .' Could. Not. Put. Down.
There. It feels good to finally tell someone.
The best book people have probably never read?
I am always surprised when I meet earnest literary types in places such as Chicago, New York, and San Francisco who have never heard of, much less read, Philip Roth's Our Gang. It was the novel that came right after Portnoy's Complaint, so maybe that's it. He wrote it basically as a satirical play about the Nixon administration, and it's hilarious—just pitch-perfect humor and tight writing. Not a word wasted.
What are you reading now and what's next on your TBR pile?
I am reading a lot of material related to my next book, a history of American craft spirits. So top of the lineup right this second is Tom Gjelten's Bacardi and the Long Fight for Cuba: The Biography of a Cause (which is pretty timely, now that I think about it). And I keep perusing both Paul Pacult's latest Kindred Spirits edition and Clay Risen's American Whiskey, Bourbon & Rye: A Guide to the Nation's Favorite Spirit. And I'm sure there's a Civil War tome lurking in there, too.
---
American Wine: A Coming-of-Age Story officially pubs on September 1, 2015. It is available to purchase everywhere books are sold, including our website.