Musings on Joni Mitchell
By Susan Whitall, editor of Joni on Joni: Interviews and Encounters with Joni Mitchell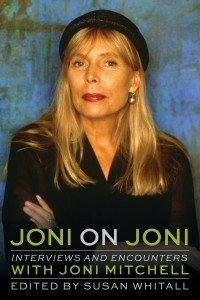 It's hard to narrow down my favorite Joni Mitchell songs, so think of this as a number of notable Joni songs, with my musings on what each one meant to me. Pour the warm beverage of your choice, light a candle and soon you'll feel the wind in from Africa.
"Urge for Going" shows Joni's facility for moody, visual lyrics early on (my favorite: "geese in chevron flight").  If you've seen the Coen brothers' 'Inside Llewyn Davis'—a dismal film—the lead character is based somewhat upon Dave Van Ronk, one of the leading lights of the Greenwich Village folk scene of the early '60s. It was Dave who told Joni that perhaps she should be a model rather than a folk singer. In the same breath, he asked for this song, which confused her—she thought he was mocking her. He wasn't.
"Both Sides, Now." I prefer Joni's 1969 version (on Clouds), with her appropriately moody reading, to Judy Collins's trilly 1967 pop rendition. Like Joni, I find Collins's and Joan Baez's voices too pristine and, yes, unsoulful for my taste. By 2000, Joni's world-weary, nicotine-streaked alto is beautiful and keenly expressive but not yet frayed. I can see the young Joni writing this in a coffee shop in Detroit's gritty Cass Corridor.
"River."  The songs from Joni's Blue album will live as long as there are heartbroken sophomores sobbing into Indian print bedspreads. It is an equal opportunity, cathartic experience no matter where you first heard it, and for most Joni fans, "A Case of You" is the song from Blue that most resonates. But for me it's "River." And it's proven the most durable, inventing its own sad Christmas classic genre. Thanks, millennials.
"Help Me." Obvious, yes, but for an intense few months, Court and Spark was all I had in my head. I'm not sure anything else penetrated my brain, and I still can listen and hear new things. This song and that album were the perfect blend of folkish pop, with a personal lyric that speaks to anybody who's fallen in love, paired with a deft, sophisticated instrumental backup by Joni and her jazz players. And it belies the common misconception that Joni could only write about sadness and loss.
"Woodstock." So many people ask—how could Joni write this when she didn't even attend the famed festival? As a polio survivor, only child and often the only woman in the room, she was used to being on the outside of things, observing. She missed nothing. And not to downplay the music, but here again a few lines live with me always—"And I dreamed I saw the bomber death planes, riding shotgun in the sky, turning into butterflies, above our nation." Joni complained that those lines were criticized as being "girly"—as if that were a fatal flaw.
"Free Man in Paris." "I deal in dreamers and telephone screamers"—does anything sum up the music business better than that one line? Commercial, but raised to the level of art thanks to Joni's wordplay and the effervescent track.
"Carey." Another acutely observed narrative, and proof of how irresistible her rough-and-ready, upbeat songs are.
"The Jungle Line." I remember when The Hissing of Summer Lawns (1975) arrived at the Creem magazine offices because I received my own vinyl copy—very exciting for a newbie writer/editor. It was an album that disappointed fans of Joni's confessional California folk-pop, but I found it innovative and fresh. I enjoy it even more now. This song samples the famed Burundi drummers as two Moog synthesizers do a call and response.
"Hejira."  Joni's narrative skills were at a peak here, and the layers of instruments are enlivened by Jaco Pastorius's singing bass lines.
"Song for Sharon." Perhaps the best example of how profoundly Joni could illuminate the choices women face, while telling a sharply personal story.
"The Dry Cleaner from Des Moines." Joni's vocal homage to Annie Ross (her "Twisted" was an early touchstone for Joni) takes flight when Jaco starts in.
"Amelia." Vapor trails in a desert sky prompted Joni to write this beautiful song. "Maybe I've never really loved, I guess that is the truth, I've spent my whole life in clouds at icy altitude, and looking down on everything."
"Big Yellow Taxi." One of Joni's "rock and roll" hits, if you have a generous definition of "hit" (it bubbled well under the Top 40). But even if it wasn't a chart topper, it was a pop cultural goldmine, with lines such as "You don't know what you've got 'til it's gone" and "You pave paradise, put up a parking lot" that will outlive us all.