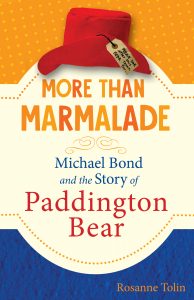 An incredible true tale, More than Marmalade: Michael Bond and the Story of Paddington Bear is the first biography about the writer behind the beloved series. Author Rosanne Tolin reveals how world history, Bond's life, and 1950s immigrant culture were embedded into Paddington's creation, bringing middle-grade readers a delightful, informative, and engaging book with a timely message of acceptance.
We asked Rosanne to answer a few questions about her writing process, what she wants readers to take away from Michael Bond's and Paddington's stories, and her take on marmalade.
Author Michael Bond poured his personal feelings about the events of his era—the refugee children his family had hosted in the countryside, a war-torn country in recovery, the bustling immigrant neighborhood where he lived—into the story of a little bear from Peru who tries very, very hard to do things right. What do you think makes the story of Paddington Bear so compelling and interesting today?
I think the biggest reason Paddington Bear and Michael Bond's story remains so compelling, is that the underlying inspiration for this iconic character was, at its heart, an immigrant story. Add to that the fact that Paddington's character was based on sad circumstances of war refugees, and there are so many synergies to what we see on the news today. If it weren't for the fact that the Browns opened up their homes and hearts, poor Paddington might've been destitute. Instead, he was treated like family, and he endeared others to him because of his differences—not despite them! There's also a message underlying the bond forged between the lovable bear and Bond's own imagination. Michael Bond often spoke of his sympathy for immigrants. In his books, the bear's misadventures were almost always forgiven. Who can fault a cub—new to this country—for his occasional mishaps as he acclimates? So, the story has great relevancy to the increasingly global times we live in today. Rather than closing off borders, we should welcome each other's diverse experiences. Life is really much more amusing that way!
What do you hope readers will take away from reading about Michael Bond's story?
Aside from more empathy for immigrants, people of different religions and ethnicities, and so forth—I also want readers, and kids in particular, to realize that if they persist their goals can come to fruition. As a writer myself, I understand the self-doubt Michael Bond felt as he tried to forge a writing life. The fact that he wasn't a great student and even failed at being an air force pilot didn't deter him from his longtime dream of being a writer. Even after many, many rejections he kept plugging away, never losing sight of that goal. That's so often the key to success in anything!
What was your greatest challenge in writing this book?
My greatest challenge in writing this book was probably striking the balance between straight facts, and the elements that (I feel) make for good creative nonfiction. I want to write books that I would've like to have read as a child! That means moving the plot along like a storyline, rather than in a more encyclopedic manner. At the same time, much more than just the backbone of this story is true. Everything that happens to Michael and the emergence of Paddington from idea to execution—to Bond's boundless success—was researched and researched, to get it just right.
What are your favorite flavors of marmalade?
I'm more of a jam or preserves person! In particular, strawberry preserves, especially if they have the slightest hint of tartness. Truth be told, I've never tasted orange marmalade and it doesn't sound too a-peel-ing.
What five people—living, dead, fiction, nonfictional—would you have over for a dinner party and why?
All five at the same time? I hope they like take-out, and big dogs! Try as I might, I can't narrow it down from six: Michael Bond, Lin-Manuel Miranda, Helen Keller, Jane Goodall, Henrietta Lacks, and Ruth Bader Ginsberg. Imagine the conversation! The dry humor of Bond, Miranda's energy, and the combined insight and experiences of these women. That would be one heck of a guest list.