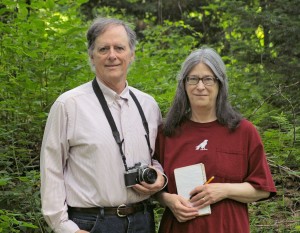 Monica Russo and Kevin Byron are the married author-photographer duo behind Treecology, the newest children's book in our Young Naturalists series. Their previous book, Birdology, received positive reviews in Kirkus and Booklist and a feature in the Chicago Tribune. For the past 30 years, Monica and Kevin have lived in a camp-cabin on a large woodlot in Maine. That has "given me the opportunity to closely study balsam fir, red maple, white pine, black and red oak and white birch through all seasons," says Monica. "Nevertheless, there was a great deal of research needed to be up to date on forest ecology and trees around the world." We asked the nature-loving duo a few questions now that they've turned their attention from birds to the appropriate companion topic of trees.
What's the allure of trees, especially for kids?
You can walk right up to a tree to study it: you can look at the bark closely and study its texture and color and see if there are any insects on it. You can look up into the branches and see that the tree may be useful to birds, squirrels and even butterflies. The diversity of leaf shapes and arrangement of veins is easy to observe. Teachers, students and parents can find trees in town and state parks, in arboretums and around schools and homes. Trees are iconic symbols of strength and longevity around the world, and are even often used in the designs of state and national flags. Trees are like time machines: fossils of tree leaves tell us about the earth's remote past and living trees grow with us into the future.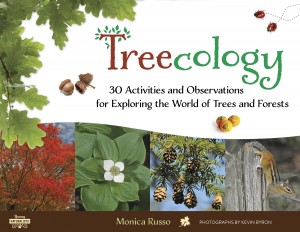 In Treecology, you make a point of showing kids that nature is right outside of every front door by including trees that can be found in cities, suburbs, and rural settings. Do you anticipate a variety of uses for the book based on where a young reader lives?
It doesn't make a difference where the reader lives: It's important to develop observation skills such as looking at the shape and design of leaves, the different textures of bark, looking for birds, insects or animals that interact with the tree, and encouraging independent analysis and discovery. Whether it's read in the classroom or at home, teachers, students and parents are likely to appreciate the fascinating diversity of the world of trees.
Favorite tree:
Monica: I grew up in Connecticut, where my favorite species were the flowering dogwoods, pepperidge trees (black tupelo) and tuliptrees (yellow-poplar). After living in Maine for over three decades, I really appreciate the white pines and balsam firs. I have a favorite dead tree: it's a balsam fir that was struck by lightning several years ago (right outside my desk window). It has attracted chipmunks, woodpeckers, chickadees and a variety of insects, and the decaying remains are always interesting to look at. Its photo is on page 51 of Treecology.
Kevin: Eastern white pine, white oak, sugar maple and tuliptree all rank highly on my list. Also Joshua-tree and saguaro cactus are favorites of mine.
Favorite North American forest or national park:
Monica: Gros Morne National Park in Newfoundland, Canada. Also: Wolfe's Neck Woods State Park and Rangeley Lakes State Park in Maine, and the High Uintas Primitive Area in Utah.
Kevin: The Grand Canyon, Arizona.
Favorite activity from the book:
Monica: "Start a Forest Logbook" (page 33) because it is easy and will last a long time, and it encourages students to make notes and drawings from direct observation. Also: "You are a Grouse—On the Alert" (page 40) because you get to imagine what it would be like to live in the forest.
Kevin: "Paint Bark with a Recipe to Attract Woodland Moths" (page 43) because it is an easy way of discovering which species of moths or other insects live in a given woodland area.
–Caitlin Eck / conversation lightly edited
---
Treecology: 30 Activities and Observations for Exploring the World of Trees and Forests is available now, wherever books and e-books are sold. Click here for a printable PDF of three projects from the book: Make a crayon rubbing of an interesting leaf, Press leaves to preserve them and Make a leaf specimen card.