Next up in our Publishing Industry Insider series, we interviewed our invaluable publishing intern Alayna Parsons-Valles. Over the past few months, Alayna has happily jumped into any task with lightning-fast speed and attention to detail. She's such a hardworking intern so, of course, we had to pick her brain for the blog series! Read below for her insightful advice for any aspiring publishing professional.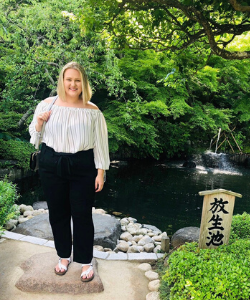 What drew you to publishing?
The easy answer is I've been attracted to books since I was introduced to my elementary school's library. Naturally a quick reader with my head in the clouds, books were a magnet. As I matured as a reader and dabbled as a writer, I realized there was more to creating a dynamic piece of work that someone wanted to not only pick up and start reading but keep reading. I declared myself a literature major in my sophomore year of college, but I had little idea where I would end up in the English world. The default A and B answers were journalist or teacher, but I wasn't satisfied with those as my only two options. I dived into creative writing and found myself thriving in workshops by assisting other writers. Speaking with a professor, publishing was suggested and doing more research, it felt like a good fit. I applied for this internship with an already confident certainty that this is what I wanted to do, but as an intern, I also wanted to make sure this is the career I wanted to apply myself to. Well, I made the right choice! I think my job is extremely fulfilling and I love the tasks I do because I feel like I am really contributing, even if it is in smaller ways. I am making a living while interacting with books every day—honestly, how amazing is that!
What does a typical day look like for you?
As a publishing intern for Triumph Books and Chicago Review Press, I assist in four different departments: marketing, publicity, editorial, and sales. My tasks vary on the needs of the day, but I am working different angles for the same books, which is a great advantage for me. I witness a rounder view of publishing, experiencing and learning what each department needs to do to make a book successful. Marketing has me handle event announcements on social media and the company websites, digital marketing campaigns, book award submissions, posters for events, ordering marketing materials, and aiding in book events. For publicity, I contribute with outreach to media outlets to promote our books in features, mentions, or author interviews. Sales has prompted my research skills as I narrow down possible stores to carry our titles, followed by creating sales pitches and presentations. In editorial, I track author copies, applications for copyright, galleys, and answer some manuscript submissions. I do mailings for everyone, every day.
What's been the most interesting thing you've learned so far as the Publishing Intern?
I believe publishing is wildly underestimated. It's easy for readers to assume an author just wrote a book and the publisher edited it, bound it and put it in stores in three easy steps—but it is so much more than that. The process of selecting a manuscript to have it become a book you can hold in your hands is done with an array of steps and constant work on the publisher's part via its departments. Communication is essential. Every department is represented in meetings and every voice is heard. Each department has ideas for a book based on their experience, knowledge, and previous results to make the book a bestseller. I learned you need to trust your coworkers and factor in what everyone contributes and continue that process through the book's entire production life, pre and post.
What advice would you give to someone looking for a job or internship in publishing? 
Grab internships and experience any way you can. Going to school in a smaller town, publishing internships were scarce—and finding one in the type of books I wanted to work with, a unicorn. But I got experience in other ways which led to this opportunity in a publishing company with books I care about. I joined the school newspaper and took internships in marketing and small editorial positions. They weren't exactly publishing, but these experiences gave me the tools and lessons that could be utilized in publishing and make me a desirable candidate when I got the chance to apply. Getting into your desired career is difficult, so you can't look too narrowly. Be flexible and use what you got, and once you have your chance—take it! I dropped everything to move to Chicago and pursue my career, never hesitated.
What do you hope to get out of your internship?
I have already learned so much in my internship. When I started, I had experience in journalism, marketing, and publicity, but publishing has taken those skills and applied them to projects and tasks that demand more responsibility and creativity. I find myself more capable of curveball situations and have more confidence in my work and decisions. I hope to continue to expand on what I already know and what I am learning. I am still at the basics of what must be done in a publishing house to create a great book and I am eager to continue to work with my coworkers and superiors and continue to learn more from them!
What are your top five favorite books?
Olive Kitteridge by Elizabeth Strout
The Glass Castle by Jeannette Walls
Me Talk Pretty One Day by David Sedaris
The Sun Also Rises by Ernest Hemingway
Leaving Time by Jodi Picoult
Stay tuned for more industry insider interviews that reveal the individuals working behind the scenes who help shape our books into the final product.