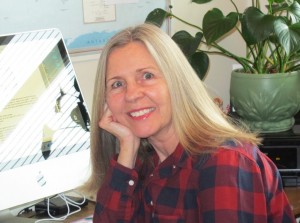 Ellen Mahoney, the author of Nellie Bly and Investigative Journalism for Kids and co-author (with astronaut Edgar Mitchell, who passed away in February) of the YA memoir Earthrise: My Adventures as an Apollo 14 Astronaut, tackles a big subject in her new book Gandhi for Kids: His Life and Ideas, with 21 Activities (August 1, 2016). Here Mahoney discusses how she decided to write about the activist, her research of Indian history and culture, and how Gandhi's teachings can resonate with kids (and adults) today as we struggle with the realities of violence in our world.
Your previous For Kids book was about Nellie Bly and investigative journalists. How did you make the leap to writing about Gandhi?
I received an e-mail from my editor, Lisa Reardon, when I was busy working on the Nellie Bly book. Lisa asked if I might be interested in writing a For Kids book about Gandhi. She knew I was interested in historic activists such as Nellie Bly, as well as modern-day activists. In addition to covering Gandhi's life and work, the book could include information about key topics such as nonviolence, bullying, consumerism, and health and wellness, which are relevant issues for kids today. It sounded very exciting and I immediately said yes.
How familiar were you with Gandhi before you wrote the book? What sorts of research did you do? Did you encounter any especially interesting documents or anecdotes?
I was somewhat familiar with Gandhi's life when I began writing the book, but I still had a lot to learn. I'd seen the three-hour Richard Attenborough film about Gandhi years earlier, so I first watched that again. Next, I read Gandhi's autobiography, The Story of My Experiments with Truth, twice because there was so much to digest. From there I read all sorts of books about Gandhi, visited many websites, and watched many YouTube videos or Internet news clips related to whatever I was studying. But in order to tell Gandhi's story, I had to learn a lot more about India's culture and traditions, the Hindu faith, and the many key moments in his life where he worked so hard to right a wrong and fight against injustice. A special treasure for me was finding the Gandhi Heritage Portal, which is a wonderful archive of Gandhi's original writings, letters, and photographs. In addition, I was thrilled to be able to speak with Gandhi's fifth grandson, Arun Gandhi, and visit the M.K. Gandhi Institute for Nonviolence in Rochester, New York, which was originally founded by Arun and his wife, Sunanda Gandhi, in Memphis, Tennessee, in 1991.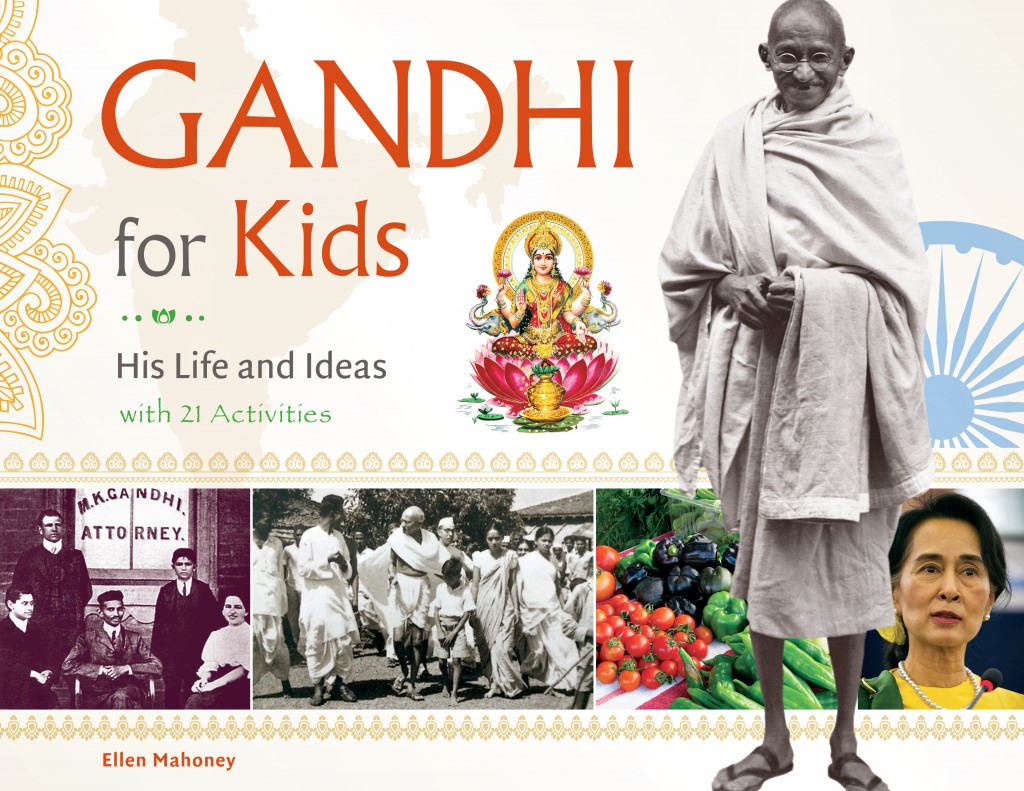 What did you personally find most inspiring about Gandhi?
I've been most inspired by the way Gandhi continues to be a beacon of light in a world that's too often filled with violence and despair. Even though Gandhi was surrounded by conflict nearly his entire life, he worked hard to find nonviolent ways to fight for peace and justice. It was also inspirational to learn how Gandhi changed from being shy as a child to becoming a powerful world leader. One person can make a difference. We can see that with Gandhi.
Gandhi influenced many contemporary figures, including Martin Luther King Jr. and Nelson Mandela. Who else has he impacted, and how are his teachings relevant today?
Yes—Gandhi's messages of nonviolence and peace have inspired many leaders and activists such as the 14th Dalai Lama, Aung San Suu Kyi, and Malala Yousafzai (highlighted in Gandhi for Kids), as well as Cesar Chavez, President Barack Obama, and Congressman John Lewis, to name just a few. I often wonder what Gandhi would think about the terrorism and violence erupting all over the world today, nearly 68 years after his death. However, I have no doubt that Gandhi would be steadfast in his beliefs that peaceful nonviolence toward all things, called "Ahimsa," and nonviolent resistance, which he called "Satyagraha," are the optimal ways to create positive change.
Gandhi's birthday, October 2, is also International Day of Non-Violence. What is important for kids and their parents to know about Gandhi and his ideas, especially in light of recent gun violence?
When my children were toddlers in the early 1990s, we lived in Southern California amidst gang and gun violence. From our home I could sometimes hear the rat-tat-tat of an assault rifle in the distance, and there was horrific violence not too far from our neighborhood. It was devastating and frightening, and in time stricter gun laws were passed in California. Today, violence, especially gun violence, seems to be a never-ending problem in America and throughout the world. Parents and young people understandably worry about what the future will hold, and Gandhi's messages of nonviolence and peace are more important than ever. I believe Gandhi would continue to encourage people to be kind, to love one another, and to respect differences. He would encourage people to practice nonviolence and stand up for peace, freedom, and justice. Gandhi would remind us that, in our rich and unique diversity on Earth, we are all connected and part of one vast global family.
---
Gandhi for Kids officially publishes August 1, 2016 and is available wherever books and e-books are sold.