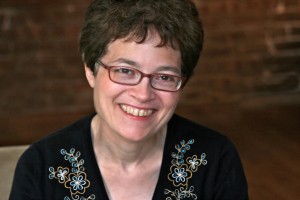 Armed with a PhD in art history and her volunteer work at the Morris-Jumel Mansion in Manhattan, Margaret Oppenheimer proves to be the perfect biographer for Eliza Jumel, a woman of the Early Republic who was born into grinding poverty yet died as one of the wealthiest women in New York. Margaret recognized that anyone with that kind of upward mobility—at a time when such things were nearly impossible, especially for women—must have some story to tell (and perhaps a skeleton or two in the closet). Margaret was kind enough to give us a glimpse into her writing process, plus a few teasers about Madame Jumel's notoriety.
You work at the Morris-Jumel Mansion as a docent. How did you decide you wanted to write the biography of the mansion's most notorious occupant?
Soon after I began volunteering at the mansion, I realized that there were inconsistencies and gaps in Eliza's story. For example, she and her husband were said to have socialized with French royalists in New York and Paris, but at the same time were claimed as staunch supporters of Napoleon I. Could both of those accounts be true? Then there was Eliza's first husband Stephen Jumel. He was a wealthy merchant, people said, but nothing was known about his career. Even the place of his birth was unknown—some said France, other Saint-Domingue (today's Haiti). I love historical detective work, and I couldn't resist the mysteries that surrounded Eliza and Stephen.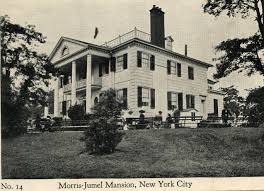 Describe for us your process in researching this book. What sorts of source materials were needed to uncover Eliza's mysterious past?
I spent a lot of time reading court records! Eliza had tussles with servants and tenants and her first husband's family, and then there was the massive battle over her estate after her death. It was exciting to open bundles of documents that hadn't been touched since the nineteenth century. The old Chancery Court records were tied with narrow red ribbons that had faded to pink—the original red tape!
You hold a PhD in art history from NYU. Did your expertise in this area aid in your research for the book?
Absolutely. Much of my art historical work has involved heavy archival research, and that was excellent training for working on this project. Plus, my specialty is late-eighteenth and early nineteenth century French art. As a result, I had a sense for Eliza and Stephen Jumel's time period—the society they lived in and the history they lived through—and the ability to read their letters to each other, which they wrote in French.
Eliza was a woman shrouded in mystery, accusations, and controversy. Can you name just a few of the laundry list of things she was accused of, and whether or not they were grounded in any truth?
The one hundred and fifty years since Eliza's death have certainly not improved her reputation. She has been accused of walking the streets as a prostitute, having an illegitimate son, tricking her first husband into marrying her, defrauding him of his fortune, arranging to have him suffer a fatal accident, even colluding to have him buried alive! So as not to spoil the story, let me address just the last accusation, the buried-alive business. Stephen Jumel's funeral was publicly announced and he was buried in the churchyard of Old St. Peter's on Mott Street with all due ceremony. I assure you that he was not alive and kicking at the time.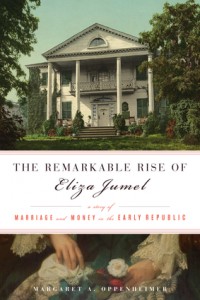 Regardless of the darker aspects of Eliza's reputation, she was clearly a shrewd businesswoman, having broken through social class barriers as a young impoverished woman and, later, managed her wealth of assets all on her own until the end of her life. Both of these accomplishments were extremely rare for a woman of her time. How did she manage it?
It took intelligence and determination, not to mention the willingness to adjust a fact or two when necessary. I also credit her mother, Phebe, with giving her a stable enough early childhood—if not a traditional one—to make possible her later success. Phebe had absolutely no advantages in life. She was on her own from the time she was very young, possibly as early as six or seven years old; she lived in at least five households as a servant by her early teens; and she was illiterate until the day of her death. She didn't have any way to support her children except by selling her body. But she was there for them—kept them with her for as long as she could and then continued to look out for them afterwards. That had to have made a difference for Eliza.
Hamilton, the musical about Alexander Hamilton, has taken the country by storm these days, and Eliza's story just happens to overlap with Hamilton's a bit. Can you explain how?
Alexander Hamilton and Eliza Jumel both fought duels with Aaron Burr—the one using pistols, the other, lawyers. Hamilton lost his bout with the former vice president. Eliza was wilier: she won.
—compiled by Caitlin Eck
---
The Remarkable Rise of Eliza Jumel published November 1, 2015 is available everywhere books or e-books are sold, including our website.
"Art historian Oppenheimer (The French Portrait) vibrantly recreates Eliza Jumel's rise from poverty to affluence, skillfully peeling away generations of rumors about this intelligent and resourceful woman." —Publishers Weekly
"Ideal for researchers, history fans, or general readers interested in women's history, gender roles, or 19th-century New York society." —Library Journal