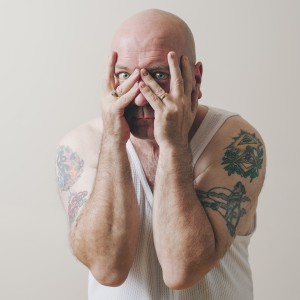 Author, journalist, and producer Mick Wall has worked inside the music industry for over 35 years. He's written biographies of Axl Rose, Led Zeppelin, Metallica, and Black Sabbath—and Love Becomes a Funeral Pyre: A Biography of the Doors, released this month in the US (last year in the UK), just received a flattering Washington Post review. In between moving houses and promoting his new books (his rock memoir Getcha Rocks Off pubbed earlier this year in the UK), Mick took some time to answer our questions about books, music, and dream dinner party guests.
What music books or articles did you love as a kid? Any writing in particular inspire you to be a rock journalist?
The rock writers I grew up reading as a teen were all the true greats—Lester Bangs, Nick Kent, Greil Marcus, Charles Shaar Murray. The writers that really influenced my own style once I began working as a music journalist were crazy mothers like Hunter S. Thompson, Charles Bukowksi, William S. Burroughs. Although none of these guys were music writers, per se, they spoke to me about the thing that really interests me about rock culture. Not the music, but the stories and the way if you do it right they can be told with the same rhythms as rock. The same raw feeling.
Do you have a go-to album for when you're working? Did you listen to every Doors album while writing Love Becomes a Funeral Pyre? 
I did listen to every Doors album while I was working on the book, plus a great many bootlegs and live DVDs and anything else I could lay my hands on. Plus all the stuff that was clearly influencing them too, from classical to jazz to film scores to pop and rock. For me, though, the go-to album, the one I always say I want played at my funeral, is Kind Of Blue by Miles Davis. It was made the same year I was born and there hasn't been a year gone by since I was about 21 that I haven't loved it, learned from it, and kept devouring it, discovering something new about it all the time. Music as magic and true will.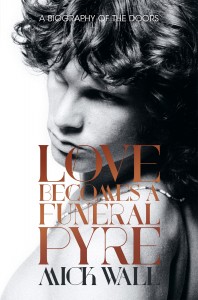 Literary confessions: What book have you faked reading? What's your guilty pleasure/can't-believe-I-read-that book?
I honestly don't have any. I read any and everything. If I'm eating cereal and there is nothing on hand I will read the cereal box. I have no shame. It all means something to me.
What five people—living, dead, fiction, nonfiction—would you have over for your dream dinner? 
Miles, Dylan, Bukowski, Thompson, and Keith Richards. Only I'd never wake up the next day…
What's a book you love that most people have probably never read?
Memoirs Of A Professional Cad by George Sanders. Simply the very best, funniest, driest, weirdest, TRUE Hollywood memoir ever written.
---