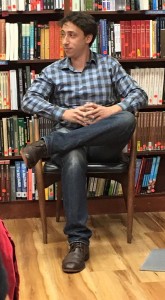 Aidan Levy has written for the New York Times, the Village Voice, JazzTimes, and the Daily Forward, among others. He plays baritone saxophone in the Stan Rubin Orchestra and is a doctoral student in the Department of English and Comparative Literature at Columbia University. He holds an MFA from Long Island University, Brooklyn, a BA from Brown University, and is a proud member of IATSE Local 52.
Levy was a year into research for a biography on Lou Reed when the musician passed away on October 27, 2013. He considered walking away from the project but instead chose to pursue it as a tribute to Reed. The finished product, Dirty Blvd.: The Life and Music of Lou Reed, was published this month.
First, you've written thousands of words about Lou Reed, but on the anniversary of his passing, we're going to offer you the opportunity to write a few more. Is there anything you would like people to know/anything you'd like to say about him?
First off, a detail that was left out of the book. On Lou Reed's first solo album, Lou Reed, the cover art repurposes German photographer Fritz Goro's image "Chick on Beach Waits for Parents to Return from Their Daily Hunting, on the Great Barrier Reef" (1950), which originally appeared in LIFE. The original cover art for the album was set to be a photo of Lou on the beach with his dog, Seymoure. Taking that into consideration, I think this Lou Reed Easter egg captures a bit of the hidden life of an artist who was undeniably complex, mercurial, and flawed, but also much more sensitive than many people realize. After all, this is a guy who wrote songs like "Candy Says" and "The Power of the Heart." And if you look at that image and listen to "Ocean" from the album, it's hard not to see that he was not only one of the greatest if not the greatest of his era to infuse the music with poetry—along with figures like Leonard Cohen, Gil Scott-Heron, Bob Dylan, and Joni Mitchell—but also rock's existential philosopher par excellence.
So many people I spoke to miss Lou Reed. Thankfully he left us so much music, but there's something sad about the fact that you can't turn the corner on Christopher Street and see him wandering up the block, just like any other hard-bitten New Yorker, or attend a Javanese gamelan concert at the Indonesian Consulate and see him sitting there in the audience, or walk through Chelsea on gallery night and hear a guitar getting louder as you approach, only to have someone tell you, "That's Lou Reed rehearsing in there." He was part of the patchwork fabric of the city, what made it weird and what made it beautiful; if there was a bard of New York, it was Lou.
This past Valentine's Day, I had the odd experience of sitting next to Laurie Anderson at one of my favorite vegan restaurants in the city, and apparently one of hers. When we walked in, there was only one available table, and guess where it was? I decided not to disturb her dinner, or even eavesdrop, but just to enjoy the food and respect her privacy. Only in New York, right? She is such an amazing artist, and Lou and Laurie were the quintessential New York couple. Anyway, it made me miss him. I felt like he should have been there. . . scowling in my general direction.
You did extensive research for Dirty Blvd. both prior to and after Reed's death. What did you read during your research, and how did that change (if it did) after his passing?
There have been a lot of books written on Lou Reed and the Velvet Underground. I think I read them all. The best writing on Lou is probably Ellen Willis's essay on the Velvets, originally published in Greil Marcus's Stranded and anthologized last year in The Essential Ellen Willis. Writing about rock as a form of secularized religion, Willis is simply transcendent, the high priestess of rock criticism.
After Lou Reed's passing, my research methodology remained the same as it would have been otherwise, but he did occasionally appear to me in anxiety dreams. Like he would be chasing me off his property in a jeep or he would be interviewing me. Other times in the dream we would just hang out, though, and it wasn't so bad. I don't know if he would have liked hanging out with me, even in a purely imaginary scenario, but who's to say? Anyway, Father John Misty alleged that Lou Reed appeared to him in a dream and told him to take down his Taylor Swift covers. He's since retracted the story, but I'd be curious to know if the glowering ghost of Lou has made any other Hamlet-esque cameos in people's dreams or nightmares.
How extensively did you listen to Lou Reed's music while writing Dirty Blvd.? And is there a book-and-album pairing that you would recommend?
I listened to Lou Reed's music every day while writing Dirty Blvd. I have heard every album multiple times, including Metal Machine Music. And I still listen to it, though not as frequently. But I also listened to other things to break up the Lou Reed immersion experience. A recent album that I liked was Radiate by guitarist Liberty Ellman. That could go pretty well with Thomas Pynchon's Inherent Vice—the book, though the film adaptation was good, too.
In addition to being an author, a journalist, a film production technician, and a student, you're also a musician. What book would you want to create the soundtrack to?
The Yiddish Policemen's Union by Michael Chabon. I can hear a chilling frisson of clarinet to establish the arctic setting. And if they ever do adapt it for film, I hope they ask John Zorn to do the score.
The last book you've cancelled plans for so you could keep reading?
Laocoön by Gotthold Ephraim Lessing. It's one of the foundational texts of aesthetic theory, published in 1766 in German. This is the origin of the term "the pregnant moment," but the text focuses more broadly on the limits of visual art and poetry. Before that, I would have to say Between the World and Me by Ta-Nehisi Coates and Billie Holiday: The Musician and the Myth by John Szwed, both of which just came out recently.
Literary confessions: What is a book you've faked reading? And/or what's your guilty pleasure/can't-believe-I-read-that book?
I faked reading Where the Heart Is for my freshman year English class in high school and saw the movie instead. It was a pretty good movie. I think I also faked reading Finnegan's Wake at some point, but there's no movie. Guilty pleasure? Not exactly guilty, but I had a period during adolescence when I was obsessed with Zen and the Art of Motorcycle Maintenance.
What is, in your opinion, the best book people have probably never read?
The System of Dante's Hell by the late Amiri Baraka. A true genius.
What are you reading now and what's next on your TBR pile?
I am currently reading Monkey Mind: A Memoir of Anxiety by Daniel Smith. I hope I can read Ned and Constance Sublette's The American Slave Coast next, and I just bought A Brief History of Seven Killings by Marlon James.
—compiled by Mary Kravenas
---
Dirty Blvd. officially published on October 1, 2015. It is available for purchase everywhere books and e-books are sold, including our website.