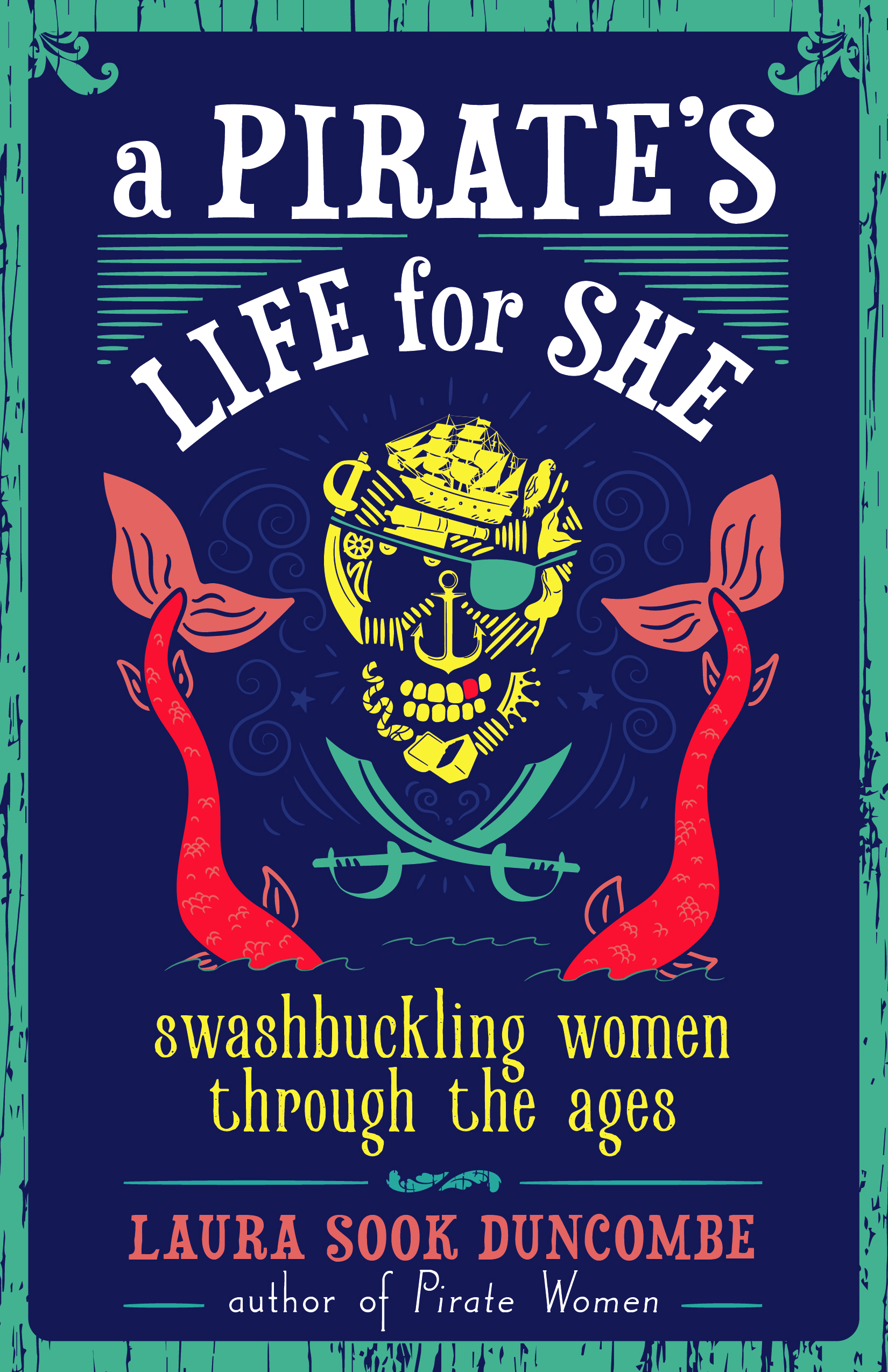 Focusing on real-life stories of pirate women with context for younger readers, A Pirate's Life for She tells the story of 16 women through the ages who sailed alongside—and sometimes in command of—their male counterparts. These women came from all walks of life but had one thing in common: a desire for freedom. History has largely ignored these female swashbucklers, until now.
In our interview with author Laura Sook Duncombe, she delves into the process of writing a book for young readers and what she learned from the writing and promotion process for her first book on female buccaneers.
Your first book, Pirate Women, explores stories of seafaring women for adult readers. What was your research and writing process like transforming these histories into a book for younger readers in A Pirate's Life for She?
It was really hard! For the writing part, I wanted to be respectful of young readers and not talk down to them but still make sure that the material was appropriately presented. I tried to distill the stories I'd already composed down to their essence—who is this woman, and why did she go to sea? I always kept my readers in mind while working—if something would have bored 12-year-old Laura, I took it out. As for research, I'd done most of it already for Pirate Women but with the second book, you know a little bit more and you're conscious of things you wish you'd done better the first time, so I will say that the research in this new book is the most factual and up-to-date information that's out there. It was immensely challenging but a lot of fun!
A Pirate's Life for She is separated into five categories depending on what motivated certain pirates: revenge, escape, glory, adventure and power. What inspired you to structure the stories into these categories?
I wanted this book to feel fundamentally different from Pirate Women, so that readers of both would not feel like they'd read the same book twice. The first one is ordered chronologically, so I was looking for something different. As I looked at my list of 16 pirates, I started to think about what united them, and I realized that some of them, even though they were separated by geography and time, had very similar stories. I wanted to highlight that, so the five categories were born.
During your promotions for Pirate Women, you were featured on This American Life and Hollywood Today Live. What were you most surprised by during the promotional process for that book?
I shouldn't have been, but I was a little surprised at how much fervent love people have for pirates! I always thought it was my geeky little hobby, but it turns out that people really do love pirates, and they yearn for more pirate content. I filled a niche I didn't even know was there! And I'm very, very grateful that it is there.
What do you hope young readers take away from reading A Pirate's Life for She?
I want young readers to see the incredible diversity in these 16 women and know that there's no one way to be something. We get so locked into what something looks like or what something should look like and it's just bogus. My hope is that my readers will be inspired to take control of their own lives and forge their own paths, even in ways that have never been done before. Pirates can teach us that—we are in control of who we become and what we do with the hand we've been dealt. Maybe that sounds corny, but I really believe it; that underneath all the swashbuckling and plunder that there's this idea of freedom, and that's why pirates are such enduring figures in pop culture. We crave that freedom, even if we don't have peg legs or talking parrots.
What five people—living, dead, fictional, nonfictional, pirate or non-pirate—would you have over for a dinner party and why? 
Ooh, this is a great question! I think people assume I'll pick pirates but the truth is most of them scare me. Like, do I want to have dinner with Anne Bonny? No! She'd probably slit my throat.
Grace O'Malley—to ask her how she balanced being a working pirate and a mother (as a mom of two boys I need some tips!).
Ruth Bader Ginsburg—she's an inspiration and she's brilliant. I just want to soak up her presence for a while and listen to her stories about fighting for women's rights.
Louisa May Alcott—Little Women is one of my favorite books and I can't pick just one character so I'll have their creator! Plus I have I feeling she'd be pretty funny and tell great stories about being a nurse during the Civil War. And I'd pester her about why Jo and Laurie couldn't end up together.
Elizabeth Warren—Do I even have to explain this one? I admire her so much. And I feel like we (and the women at this dinner party) could legit figure out how to save the world.
Princess Leia—She's been my hero since I was a kid. She stands up for what she believes in and she never gives up. I want to give her a nice long hug.