January 26, 2018
•
Industry Insider
A Futile and Stupid Gesture movie review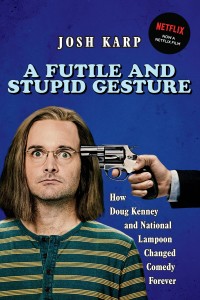 On Wednesday, January 24, the Netflix original movie A Futile and Stupid Gesture premiered at the Sundance Film Festival before debuting on Netflix Friday, January 26.
The movie, which stars Will Forte and Domhnall Gleeson, was inspired by Josh Karp's 2006 biography of Doug Kenney.
Next week we'll have a piece from Josh Karp about writing the book, the journey from page to screen, and what it was like seeing the movie at the fest. In the meantime, one of our editors, Devon Freeny, offered up this review from Sundance:
This biopic about National Lampoon cofounder Doug Kenney and the comedy revolution he helped to ignite is clearly a labor of love, in which director David Wain (Wet Hot American Summer) and his all-star cast of comic actors pay tribute to the comedy legends of a previous generation. Though it resurrects such luminaries as Gilda Radner and John Belushi and reenacts classic moments from Animal House and Caddyshack, it never feels like mere impersonation or re-creation. Even the infamously sour-tempered Chevy Chase (played, in a brilliant bit of casting, by his Community costar Joel McHale) comes across as a complex and sympathetic human being rather than a showbiz caricature. The prickly but caring friendship between McHale's Chase and Will Forte's Doug Kenney is one of two relationships that give the movie its heart; the other is the fire-and-ice partnership between middle-American goofball Kenney and his Lampoon cofounder, pipe-smoking elitist Henry Beard (Domhnall Gleeson, nimbly maneuvering from snobbery to warmth to dry wit). With Gleeson and McHale to play off of, SNL veteran Forte doesn't just capture Kenney's knack for exuberant comic anarchy but also embodies the deeper needs and repressed insecurities that drove him to reshape the comedy landscape. —Devon Freeny
Look for more (and more pictures) next week!
---