Read below to learn from author Sue Nelson about her writing process and the inspiration for her newest book Wally Funk's Race for Space.
Publishers Weekly says, "Funk is accomplished, charismatic and energetic, and readers will be glad they got to spend time with her and Nelson via this well-written, entertaining book."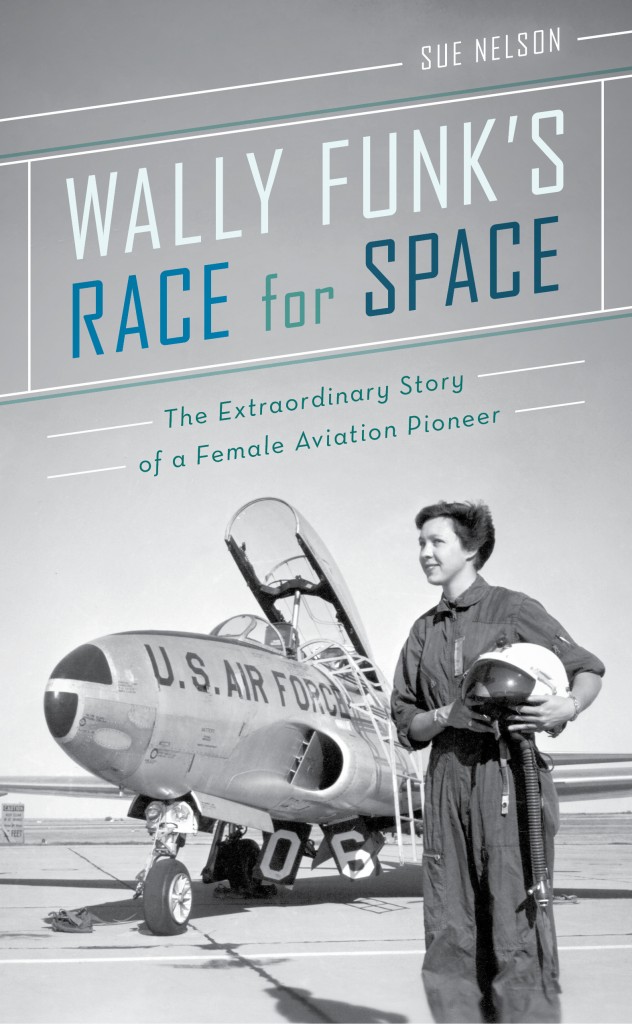 You seamlessly integrated multiple elements and layers into one story: your interactions with Wally and others, the history of the astronaut programs, and your own narrative. How did you go about structuring and writing this book?
Opening the book with Wally using her left knee to drive was a must for me. It summed up her character perfectly. After that I couldn't assume everyone knew about the Mercury 13, which meant its history and story had to be the starting point. From then on it was chronological and based on our more recent space-related trips in Europe and America, over a two-year period (2016–18), incorporating Wally's reminiscences and incredible aviation career as she heads toward finally fulfilling a lifelong ambition to become an astronaut.
How was the writing process for this book different from that for your previous book?
My last book, How to Clone the Perfect Blonde, was as coauthor with British science journalist Richard Hollingham, who is also my husband, so I only wrote half of it! It was also a collection of essays on different scientific subjects—such as cloning or black holes—taking a fun starting point, such as how to clone your loved one or dog or remove a local eyesore, and then explaining the science behind it. Wally Funk's Race for Space has one backdrop and narrative throughout: Wally and her inspirational journey.
What's your favorite thing about Wally and why?
It's her enthusiasm and lust for life. She's such a positive person who has always aimed high and has never let setbacks derail her life. Her laugh is pretty special too. Fortunately I get to hear it on a regular basis.
What do you hope readers will take away from reading this book?
I hope the reader will always remember Wally Funk, the achievements of the Mercury 13, and the important role they all played in the history of women in space. All too often, many women's part in history has been neglected, undervalued or overlooked—from artists and astronomers to adventurers and engineers. Their history needs to be written down, appear in every text book and library, and never be forgotten.
What five people—living, dead, fictional or nonfictional—would you have over for you dream dinner and why?
I'd want a table of brilliant women. Doris Day, because I love her songs and her films; Bette Davis because she's one of the greatest actresses who has ever lived and both Now Voyager and All About Eve still have the capacity to make me cry; Émilie du Châtelet, a fascinating character and towering intellect from early 18th-century France, to hear her ideas and philosophy; Williamina Fleming, the Scottish woman who traveled to Boston with her husband and was abandoned while pregnant—to hear firsthand how she got a job as a maid for the director of the Harvard Observatory and ended up cataloguing stars as a "computer" and discovered the stars known as white dwarves; and finally the aviator and first woman to break the sound barrier, Jackie Cochran, to understand what led her to undermine the Mercury 13's chances of being admitted to NASA as its first female astronauts in the 1960s.