Books can have such a profound influence on our mindset. To help you kick start the New Year, New You, we've recommended life-changing books that have impacted us the most and inspired us to follow our dreams, or not to.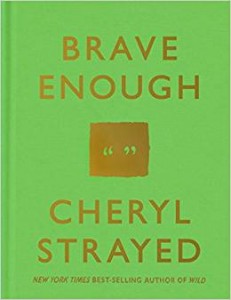 I have a few books that I'll turn to again and again for self-improvement, especially because I can easily cherry-pick chapters after (or instead of) reading them all the way through: for workout motivation, 8 Keys to Mental Health Through Exercise; for money mindfulness, Broke Millennial: Stop Scraping By and Get Your Financial Life Together; for pocket-sized calm, How to Relax; and for everyday inspiration, Brave Enough. —Ashley Alfirevic, publicity associate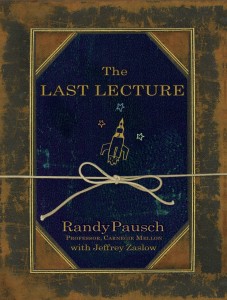 I have a few in this category but in general I'd say The Last Lecture by Randy Pausch is one of the most poignant and touching how-to-achieve-your-childhood-dreams guides that I've ever read. Written by a Carnegie Mellon professor after his diagnosis with terminal cancer, the book is full of surprisingly lighthearted, earnest, honest, and genuinely practical advice for keeping an eye on the big picture as you live day-to-day life. —Alex Granato, CRP intern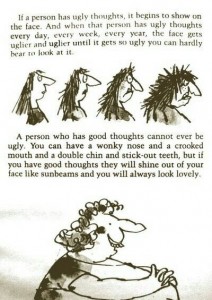 There is a page early on in the Roald Dahl book The Twits that has stayed with me since I first read it:
"If a person has ugly thoughts, it begins to show on the face. And when that person has ugly thoughts every day, every week, every year, the face gets uglier and uglier until you can hardly bear to look at it.
A person who has good thoughts cannot ever be ugly. You can have a wonky nose and a crooked mouth and a double chin and stick-out teeth, but if you have good thoughts it will shine out of your face like sunbeams and you will always look lovely."
It's not a groundbreaking idea, that beauty can come from the inside, but Dahl's words and Quentin Blake's illustrations made it so very clear and it's something I've always taken to heart. Especially, I think, on days where I'm feeling like a Twit. —Mary Kravenas, marketing manager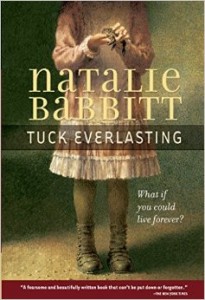 Tuck Everlasting for sure. If only for the quote, "Don't be afraid of death; be afraid of the unlived life." I read that book in fifth grade, and that message was just what I needed to hear at that time. And now, sometimes that reminder is the only thing to get me off my butt on the weekends. —Emily Lewis, editorial and marketing assistant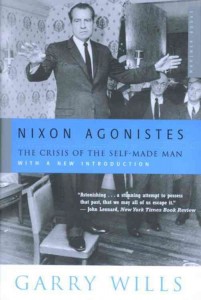 Weirdly enough, it was Nixon Agonistes by Garry Wills, which I read my junior year in college. Before I read that I always thought that being a self-made man was a good thing, that you could essentially remake yourself to be what you want to be. Nixon Agonistes showed me how hollow that idea was at its core. It completely changed the way I looked at life. It changed my politics, my views about America, my views about liberalism and the 1960s. I haven't reread it since, but I should.
As for that whole "follow your dreams" crap, this book really showed me how not to do that. Following your dreams—as Nixon tried so hard to do—usually ends up in heartbreak and frustration, and can even lead to insanity. Living a fulfilling life means disregarding your dreams more often than not.  —Yuval Taylor, senior editor
I wanted to provide my story of inspiration, but I have to confess that while the moment and the line in the book are concrete in my memory, the title of the book has disappeared to the mists of time. When I was about eight years old, I was finishing a book at bedtime. The story ended but I wasn't ready to let go of my companions just yet, and so I flipped around to read through all the extra front and back matter: the colophon, the forthcoming books by the author . . . and the acknowledgments. I read ". . .and a thank you to my editor . . ."
Sometimes it just takes knowing a possibility exists to give you the path for a major part of your life. Isn't that really one of the great joys of reading, finding those existing possibilities?—Michelle Williams, managing editor