Read below to learn about author Cathryn J. Prince's writing process for her new book Queen of the Mountaineers and how the story of American mountaineer Fanny Bullock Workman relates to the modern feminist movement.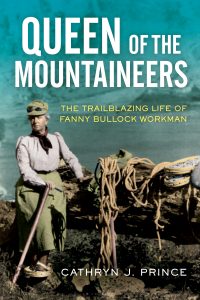 Queen of the Mountaineers is the story of Fanny Bullock Workman's role in science and exploration, breaking boundaries and charting frontiers for women everywhere. Do you think Workman would have been involved in today's feminist movement?
Yes, most definitely. Workman wanted women to be judged on their accomplishments alone. Moreover, she strongly believed women needed to follow the path that was right for them, not the path society deemed correct. While for Workman that meant motherhood and pursuing her passion, which she turned into her career, she understood other women might feel differently.
What was the most challenging aspect of writing this book?
For me it's always a challenge to get inside the head of the person, or persons, about whom I'm writing. Workman presented a challenge because while she left behind copious notes and journals, she was rather reserved. It took time to find her and understand what made her tick.
What were you most shocked to learn when researching Workman's life?
I was pleasantly surprised to discover that her husband, Hunter, was as much of a feminist as his wife. He championed her work and took pride in how she broke down societal barriers. In that regard he was as much a role model for their daughter, Rachel, as was Workman.
What do you hope readers will take away from reading Queen of the Mountaineers?
Of course I hope Workman's fortitude and feats on the mountain will amaze and delight readers, but beyond that I think the real message underpinning Workman's story is how she steadfastly challenged expectations and lived a life with purpose and determination.
What five people—living, dead, fictional or nonfictional—would you have over for a dinner party and why?
Workman not withstanding, I'd love to invite Dianne Reeves for her storytelling and her voice; Melissa McCarthy because she is at once fearlessly funny and I adored her in Can You Ever Forgive Me; Martha Gellhorn, one of the journalists I most admire; Antoine de Sainte-Exupéry because The Little Prince remains one of my three favorite books, and lastly the wise and witty Carrie Fisher.