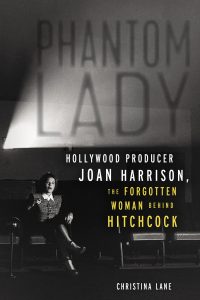 Phantom Lady is the first biography of Joan Harrison, one of the most influential women of Hollywood's golden era, the woman who, working behind the scenes, shaped the screen style of Alfred Hitchcock. In 1933, Joan Harrison was a twenty-six-year-old former salesgirl with a dream of escaping both her stodgy London suburb and the dreadful prospect of settling down with one of the local boys. A few short years later, she was Alfred Hitchcock's confidante and one of the Oscar-nominated screenwriters of his first American film, Rebecca. Forging her own public persona as the female Hitchcock, Harrison went on to produce numerous Hollywood features before becoming a television pioneer as the producer of Alfred Hitchcock Presents. Author Christina Lane shows how this stylish, stunning woman became Hollywood's most powerful female writer-producer—one whom history has since overlooked.
We asked Christina to answer a few questions about her writing process, Alfred Hitchcock movies and why she picked to write about Joan Harrison.
When did you first decide to write about Joan Harrison and why?
I had been intrigued by the subject of Hitchcock's female collaborators for a long time, ever since finding Harrison's writers' files in the David O. Selznick Collection, but it finally clicked that what interested me most was Joan's life story. She stood out to me because of the long arc of her career with the director and how obviously she figured into the way he conceived of the "Hitchcock blonde" on the screen.
What Hitchcock films would you recommend your reader watch as a complement to your book and Harrison's work?
I highly recommend the early American gothic suspense films such as Rebecca and Suspicion as well as the British Young and Innocent, which Harrison developed early on. As for the movies she made as a solo-producer, Phantom Lady and They Won't Believe Me are must-sees.
What was your greatest challenge in writing this book?
The biggest hurdle was the lack of sources. There was no "Joan Harrison collection" or personal papers hiding in a family member's attic. Fortunately, I was able to track down people who knew her, who could help fill in the blanks. They also gave me a better sense of who she was behind the scenes.
What do you hope readers will take away from reading this book?
I hope that they come away with a better sense of the weight of Harrison's achievements. She made so many strides that I couldn't even fit all of her accomplishments into the book! It's also my aim for readers to feel they've come to know Joan as a three-dimensional person in her own right, beyond her association with Hitchcock.
What five people–living, dead, fiction, nonfictional–would you have over for a dinner party and why?
That's easy: Joan Harrison, Hitchcock, his wife Alma Reville, Joan Fontaine, and Cary Grant. The conversation would be exquisite.