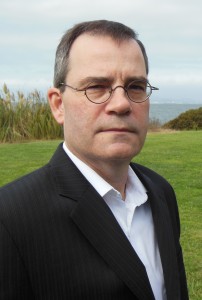 Go Slow is an intimate biography of an artist best known for her provocative image and sultry voice. Julie London broke into acting and singing by chance as her early-developed good looks and charm attracted attention from studio executives at the age of 16. A failed marriage with Jack Webb and the attention of gossip columns left young Julie frustrated and uninspired. Regaining her independence and teaming up with friend-turned-sweetheart Bobby Troup, Julie turned toward the world of music. Her wildly successful "Cry Me a River" opened doors to further albums and memorable roles in film and television through the 1970s.
Author Michael Owen shares Julie London's top pop culture moments, from a stop-and-go start in the 1940s to her established stardom in the '70s, giving us a candid picture of the woman known for her subtlety, her sex appeal and, when she needed it, her stubbornness.
In July 1947, Julie London—then an up-and-coming actress under contract at Universal Pictures—married a young actor named Jack Webb in a small ceremony in Las Vegas, Nevada. The reality of married life didn't always match the rosy images in the romance magazines. In 1949, desperate for money and with their first child on the way, Webb convinced NBC to take a chance on a radio series about a Los Angeles police detective named Joe Friday. Dragnet and Webb became successful, while Julie's once-promising career and the marriage faded. She filed for divorce in August 1953, as the insistent beat of the Dragnet theme pounded in her head.
The rejuvenation of her career came from two unexpected sources. As she struggled to regain a foothold in the movie business, her new boyfriend, Bobby Troup (the songwriter of "Route 66"), suggested she should think about singing as another avenue to attract the notice of Hollywood executives. In 1955, Bobby got Julie her first nightclub engagement and was the instigator of her signing a recording contract with Liberty Records. Arthur Hamilton, Julie's high school boyfriend, provided the only new song on Julie Is Her Name, her first LP. "Cry Me a River"—a woman's table-turning stance against the man who done her wrong—gave Julie her first hit and struck a chord with listeners around the world.
The success of "Cry Me a River" reenergized her movie career, leading to the song's inclusion in Frank Tashlin's big-screen farce The Girl Can't Help It. Here's Julie singing her most iconic song as her character haunts her former agent, played by Tom Ewell.
Julie quickly became a star on records, in movies, and on television. In 1957, she began filming a series of commercials for Marlboro cigarettes that solidified her image as a sex symbol of her time, as she breathily oozed out the famous Marlboro theme song. The commercials eventually became something of a millstone around her neck, as some television variety show producers refused to book her as a guest because she was identified with a rival tobacco company to the ones sponsoring their shows.
After years of dating, Julie finally married Bobby Troup on New Year's Eve 1959. Their family grew with the addition of three children to the two each had had with their previous spouses. A large house in Encino solidified their marriage, which lasted until Bobby's death in 1999. This segment from Julie's 1965 syndicated television show Something Special, in which Bobby performs his composition "It Happened Once Before" to his adoring wife, gives us a sense of their relationship.
One of Julie's favorite musicians was former Stan Kenton Orchestra bass player Don Bagley, who acted as her musical director on numerous occasions during the 1960s. Bagley was responsible for the big band arrangements Julie used when she expanded the number of musicians in her live act from her usual trio or a quartet. A highlight of the new Vegas-style act was a sexy duet she performed just with Bagley—the 1920s standard "Bye Bye Blackbird." The "whole attitude" of the number, Bagley told me, was all Julie's.
Her children often accompanied her on her travels, and in the spring of 1965, her three-year-old daughter Kelly came along when the singer went to Australia for a series of concerts. One night, as Julie prepared to go on stage, Kelly struggled in her mother's arms and refused to go to sleep. Guitarist John Abate suggested that a little music would calm Kelly down. He struck up the tune of television's Mickey Mouse Club, slowing it down to a lullaby from its original march tempo. Julie joined in to whisper the lyrics. Not only did Kelly fall asleep, but also Julie had a new number for her act. Two months later, she filmed a performance of the song for television, which became even more notable in 1967 when she presented her recording of it during her testimony to a congressional subcommittee on copyrights.
Julie's colorful language was well known to her friends and entertainment industry colleagues, and these infamous late 1960s outtakes from recording sessions for George and Ira Gershwin's "The Man I Love" certainly confirm her fondness for expletives. But there's a more important element here, one that goes beyond superficial humor: listen for the singer's insistence on the exact tempo and phrasing, and how she understood what she could—and vitally, what she couldn't—do with her voice.
Bobby played an enormous role in Julie's singing career, and most of her albums included at least one fine Troup song. In 1966, he presented her with his lyrics to "Nice Girls Don't Stay for Breakfast," a tune by composer Jerry Leshay, who was initially unhappy with the ballad tempo Julie brought to what he had written as an uptempo number. It didn't take long for the composer to be convinced of the rightness of Julie's approach, which she explores to an even greater degree in this excerpt from a 1968 television special. (Incidentally, listen for the last lines of the lyric—"please pass the jam"—which I originally heard as "please pass the gin"!)
Julie's singing career largely came to an end in the early 1970s, when she was cast by former husband Jack Webb as Nurse Dixie McCall in the NBC television series Emergency! The success of the show, combined with recent thyroid problems, gave Julie the excuses she needed to justify her lifelong claims of stage fright. In late 1975, Julie joined the cast of Emergency! on Dinah Shore's daytime talk show. This brief clip reveals not only her reluctance to sing, but also her blasé attitude to her abilities as a vocalist.
---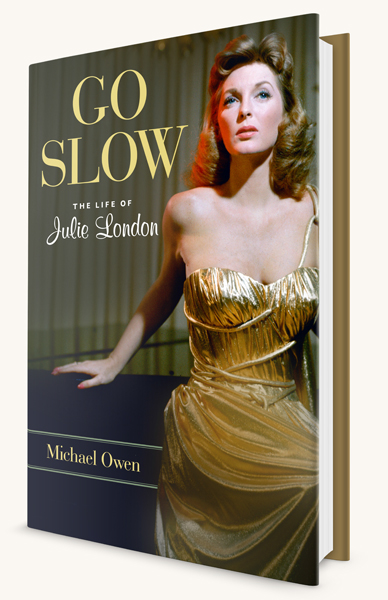 An affectionate and complex portrait of London that will help rekindle an interest in her life and work."—Kirkus
"[Go Slow] is an overdue appreciation of a chanteuse capable of squeezing every bit of meaning and emotion out of ballads. . ."—Library Journal

"Beautifully crafted and stunningly researched, this entertaining biography of Julie London reminds us why she matters, now and for always. It is a great read!" —Michael Feinstein, singer
"The book offers an intimate look at her memorable public career and the sharp contrasts of her private life." —Discover Hollywood
"Michael Owen has written an interesting book that fans of London or people interested in the popular culture of the 1950s will want to read." —All About Jazz
Go Slow: The Life of Julie London is available wherever books and e-books are sold.
[Order it now $30]  [Request a review copy]