Bookalike – Oscars Edition
Prepare for the Oscars by reading the bookalikes for this year's Best Picture nominees! Read below for the Chicago Review Press counterpart to some of your favorite movies from last year.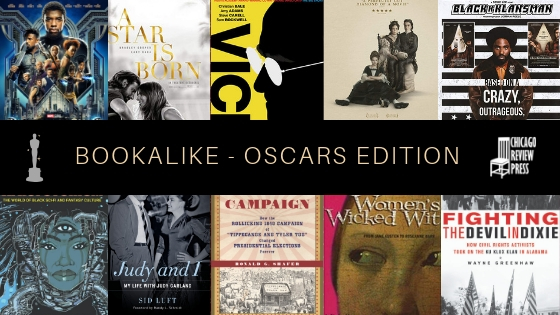 Black Panther and Afrofuturism
Afrofuturism was published back in 2014, but this year it received a whirlwind of publicity in connection with Black Panther. As Natalie Moore wrote in the Chicago Sun Times, "The Black Panther movie represents Afrofuturism, a genre that's part science fiction, futuristic looking while weaving in black history and culture."
A Star Is Born and Judy and I
In Judy and I, Judy Garland's ex-husband Sid Luft writes about their relationship in all its highs and lows beginning around the time that Judy took on the star role in the 1954 remake of A Star Is Born. That very same movie that launched her Hollywood comeback, and which is now up for Best Picture, contains similar themes to Judy's own life, as Sid describes in his memoir—disgraced celebrities, an enduring love story, and the dark realities of stardom.
"A new autobiography by Luft, Judy and I, leaps beyond the personal specifics to project a forceful and distinctive picture of the making of "A Star Is Born" and of the larger world of entertainment in which the couple lived. In prose so brassy that it bruises the sensibilities, Luft, who died in 2005, illuminates the dark side of life in the spotlight and dispels any sentimental illusions about the glories of show business in Hollywood's classic age." —New Yorker
The Favourite and Women's Wicked Wit
The Favourite depicts Queen Anne and the British court of the 18th century with intensity and humor. Similarly, Women's Wicked Wit doesn't hold back with its collection of pithy quotes from women throughout centuries. This witty book includes quotes with dynamic themes—comedy, lust, tragedy, intrigue and compassion—subverting gender expectations as frequently and as entertainingly as The Favourite.
Vice and The Carnival Campaign
The 1840 presidential campaign of "Tippecanoe and Tyler Too" was one of the first presidential campaigns revolving around "entertaining" and emphasizing strategy over substance in politics. If you walked away from Vice disgusted at the state of politics today, then you should read The Carnival Campaign, if only to reveal one of the defining moments in history that led us here. Even Ralph Nader writes, "If you've ever wondered how our presidential campaigns came to be what they are now, read The Carnival Campaign. Ronald G. Shafer brings to life the raw emotions and coarse behaviors that toppled the incumbent President Martin Van Buren. This is gripping history."
BlacKkKlannsman and Fighting the Devil in Dixie
BlacKkKlannsman tells the true story of an African American detective who went undercover to infiltrate the local chapter of the Ku Klux Klan in Colorado Springs. In not quite as stealthy of a manner, civil rights activists in Wayne Greenhaw's Fighting the Devil in Dixie used their intellect and determination to fight the KKK in Alabama. Each unsung hero, from student writers to Freedom Fighters, fought the KKK in their own way and each gets their own recognition in this compilation of eyewitness accounts.