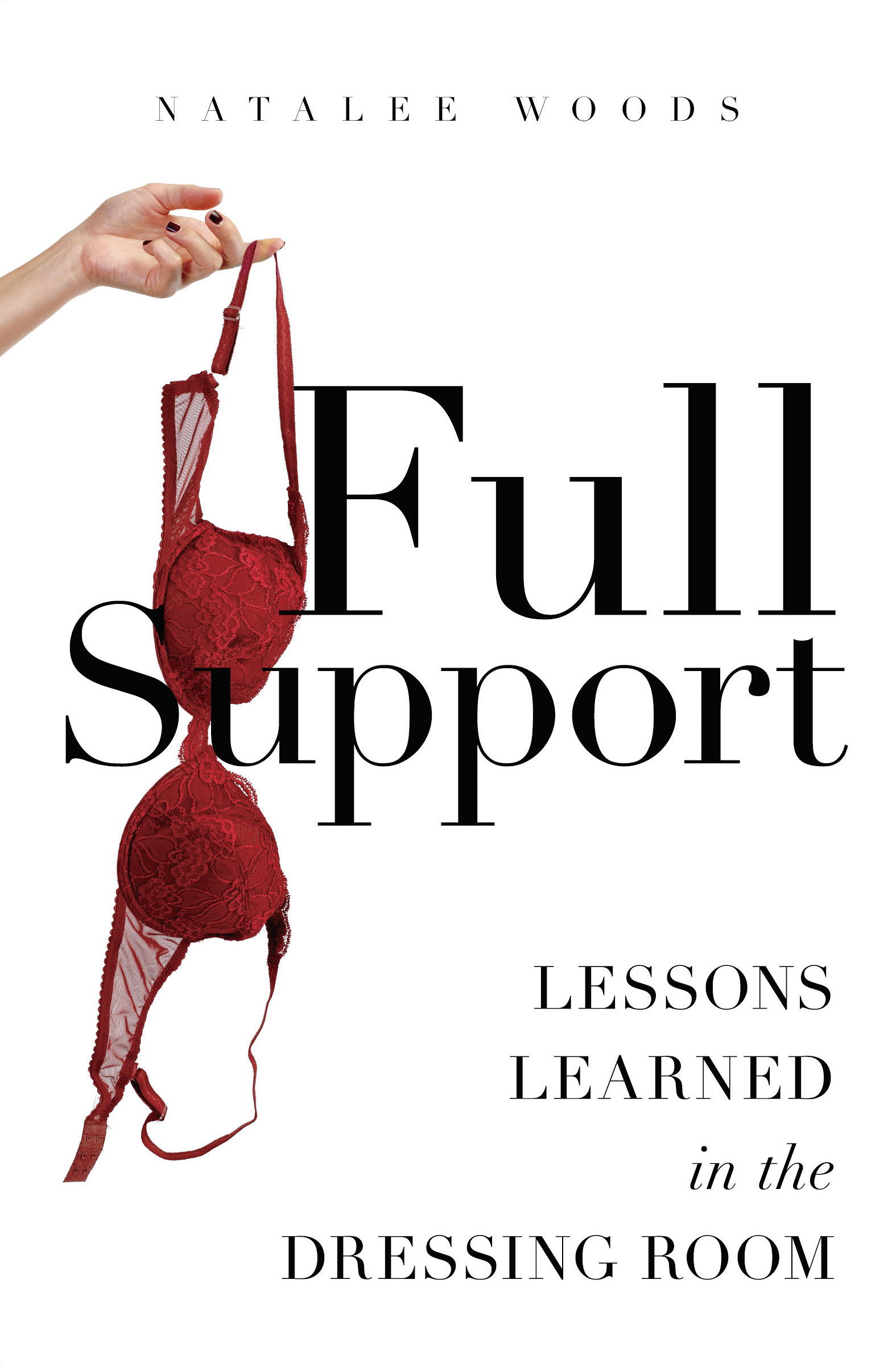 As a bra-fitter at a high-end department store for more than a decade, Natalee Woods watched women bravely facing down their fears and embracing what worked for them. Her new memoir Full Support shares their stories.
In our interview below, we asked Natalee about some more insights into her time as a bra-fitter and her writing process.
When did you first decide that you wanted to write about your experiences as a professional bra-fitter?
I knew I wanted to write about my experiences as a bra fitter in a high-end department store after meeting a woman who worked in the sex industry. She approached the counter with incredible confidence, asking me, straight up, to fit her boobs. From there, we spent a lot of time in the dressing room, finding just the right bras and lingerie for her work. I loved how authentic she was. And our conversation felt really organic, while leading me to examine different parts of myself that had been overpowered by fear. For example, my relationship with intimacy. Though she had experienced many men in her life, sharing her body on her terms, she pushed me to think about my own standards—and desires. It was liberating, in the most unexpected way.
What was your writing process like? How did you go about narrowing down all of the stories you've experienced?
The writing process was difficult, as it is for many. I hung a lot of anchor charts in my apartment, organizing my experiences by the emotions I felt—and the lessons learned. What's cool too, which I mention in the book's introduction, is that I worked off receipt paper from the registers that I had held onto for years. I'd read a quote and/or dialogue exchanged with a woman and was immediately transported back into the dressing room with that customer, almost feeling the same emotion while honoring their story. Words are powerful. The human connection is powerful. I chose stories that changed my perspective with hopes that they would also push readers to think more deeply about themselves, their bodies, and the world around them.
What was your greatest challenge in writing this book?
The greatest challenge was figuring out how much of my own narrative belonged in the book. I never wanted to monopolize a woman's words or story, but I felt that I needed to show readers who I am as a woman—someone who struggles with anxiety and grief and too many options on a food menu. All of it. I also struggled with the end. Where do I leave off? What do readers need? Did I honor each customer respectively by sharing their truth? I was adamant about introducing real and maintaining real. I wanted to leave readers stuck in a moment, because that's life.
What do you hope readers will take away from reading Full Support?
I hope readers will take away a stronger sense of self—and humanity—after reading Full Support. I want this book to be a unifier, as we share some of the same struggles, and negotiate with society's pressures and influences to look a certain way or act a certain way. Yes, we've got one hell of a women's liberation movement happening. But we also have more work to do. And it's not just a private reckoning with our bodies and our minds, but with society. I want readers to lose themselves in the complex nuances of being human because that's where the growth starts, the self-regard, the understanding that we all have body parts we're trying to work with every single day. That includes our hearts and our minds. I want readers to gain new perspectives regarding women—and the human race as a whole. We lose collectively when we don't honor the human hardships, followed by one's right to choose, be it a bra that's too small or a love that feels good.
What five people—living, dead, fictional, nonfictional—would you have over for a dinner party and why? 
I love this question! So many people to choose from. First up at my dinner party would be Prince. The guy was a musical god—a fascinating human being that I know I could listen to all night long. The spell of genius never dies. Next up would be the late Toni Morrison because she was a brilliant writer who should be required reading for all. I'd happily pull up a seat for film director Alejandro Gonzalez Inarritu to talk about his beautiful film Biutiful, and just to hear his heartbeat. To my left would be #44, Barack Obama, so I could shake his hand, and to my right would be Gloria Steinem for the ultimate high five.